On an overcast Saturday in Great Yarmouth, a group of young people had come to attend the National Saturday Art & DesignClub.

Millie Newton, 13, was one such young person, and today was a special day as she was receiving her Bronze Arts Award certificate. She kindly took some time to talk me through her portfolio.

All the young people who attend the Saturday Art & Design Club are given an artists sketchbook, which serves as their portfolio for Bronze Arts Award - that every child gets the opportunity to complete.

For her part A, Millie designed and created her own light. In her sketchbook you can see the design process as she sketches out different ideas, some of which were based on the works of Henry Franks - a product designer renowned for his Dyslexic Objects collection. Franks came in to give a masterclass in design, and based off of this, Millie went on to design a lamp that gave the impression of two triangles balanced on top of one another.
Millie's research on lightHer part B documented her trip to London with the club, where they visited Central Saint Martins and the Tate Modern. At CSM they learned more about the National Saturday Club, and saw what other clubs around the country are working on.She saw three "really good projects" at the Tate Modern, but one that particularly stood out to her was Sheela Gowda's Behold - an installation that combined car bumpers with human hair!
Documentation of Millie's trip to LondonFor her art inspiration (part C), Millie chose to look at György Kepes, the hungarian-born painter and photographer. In particular, Millie was interested in his photograms, a artform she was quite taken with when she experimented with them a few weeks prior.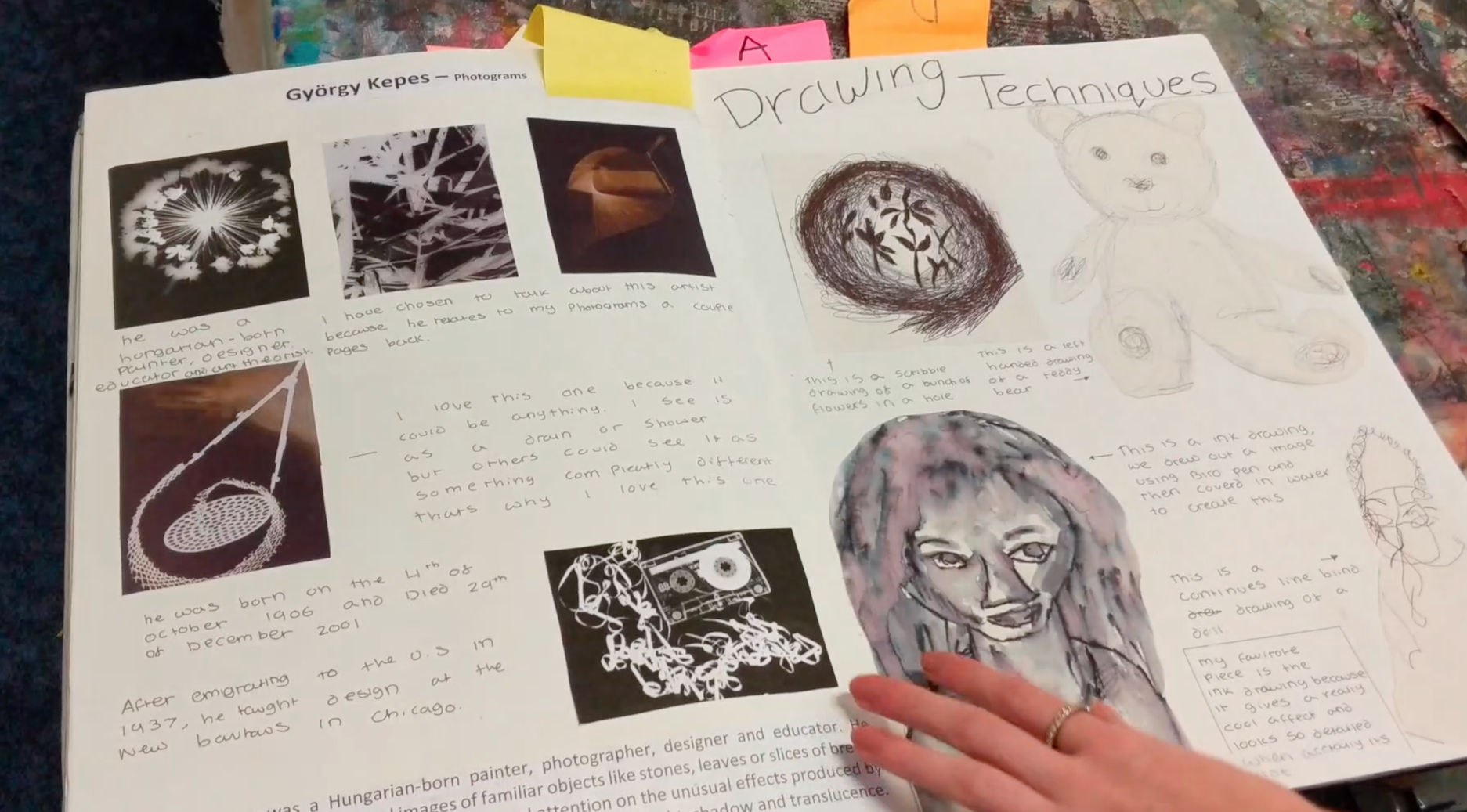 Research on György Kepes
Millie's part D (skill sharing) took place at the Big Draw in Great Yarmouth - part of the world's largest drawing festival. She elected to teach people how to do mark-making and printing. This was achieved by getting them to "draw" onto a press print plate and then bleed the designs through using watercolours.
"I particularly enjoy abstract art and the many different ways marks can be made to express feelings and images"
Although not submitted as a specific module of her Bronze, Millie expressed that some of her favourite work during her Arts Award was the exploration of Dada - the European avant-garde art movement. She also highlighted the week where they looked at Michael Brennand-Wood's textile work and had a go at their own weaving as particularly fun.
Get Involved with Arts Award
Arts Award (What is Arts Award?)  helps you to grow your talents, explore the arts, be a creative leader and get a qualification. If you're already participating, go you! Head over to our Bronze and Gold hubs for more inspiration and support. 
Join our Arts Award alumni network 
We're on the lookout for Arts Award alumni everywhere! We're here to help support you in your next career steps and offer some useful and interesting benefits! Find out more and sign up. 
Write for us 
Help others like you get through their Arts Award qualification by writing about your tips and experiences. Become a Voice Contributor today.