Featured Content
Assistant Editor Sienna caught up with the artistic director of Entelechy Arts, David Slater, live on Instagram. Entelechy Arts is a London-based community arts organisation aiming to give a voice to the marginalised. David advises young creatives on how they can uphold their communities and fight racism as well as sharing some of the fascinating projects delivered by Entelechy Arts.
Voiceboxes
Voiceboxes feature special projects and themed content
Find new experiences and discover great art you can enjoy from the comfort of your own home.
From radio presenters and journalists, to circus performers and festival producers, here we chat to industry professionals about their careers and get advice on how to follow in their footsteps.
Featured User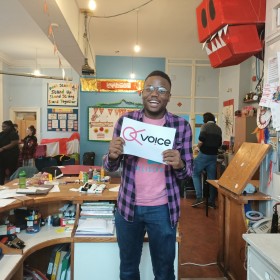 Oluwatayo Adewole
How to Write Poetry with Theresa Lola
We chatted with Theresa Lola, poet, facilitator and Young People's Laureate for London, about how to write poetry and make a career as a poet. It's part of the Artist Workshop with Voice series, funded by Arts Council England.
View How-to Guide
Voicebox
Whether it's the environment, our rising homelessness, or a hyper-local issue, we want to shine a light on the people working to make a difference.
Let no injustice go unchallenged