Fashion stylists are the masterminds driving the miscellany of trends sweeping the globe today. Whether sitting front row at the Brits, pulling frocks for popstars, or being on the pulse of hot, celebrity gossip – the perks don't make it any less of a tough ride in the fashion industry, and Denise Brown fought her way to the top of the fashion game against the odds.
As Ms Brown's mellifluous tones waft down the line, I instantly sense her infectious enthusiasm and passion for fashion. This stylist's larger than life persona could compel any woman to open their wardrobe doors! Her signature style? A bold profile, embellished by blue tassels, pendulous plumage and a wide-brimmed, fedora hat.  She's proudly parading her African heritage, which poses a parable of power, prestige, and freedom. What intrigues me most is her unorthodox journey into fashion dazzle. I'm set to uncover the legacy of this female style legend whose dark fate eloped, all because she dared to reach for the stars.
I am who I am, Photographer, Denise Brown, Stylist, Denise Brown
This beautiful soul and style-maker is shaking up the status quo of the fashion world with her inclusivity and platform, 'fashion changed my life.' She has inspired so many women to find their way in the industry regardless of their background.  She is the miracle nobody saw coming.
Progeny of a Jamaican, drug-addict mother and deadbeat father who jettisoned her before the age of 8, Denise's childhood unfolded as a series of dark tragedies. She tells me about how her mother trained her to sell drugs when she was only a child.
'I'd find drug dealers piping crack cocaine in my front living room when I came home from school.  I ran a cannabis business by the time I was 8 years old.'
Denise recalls being too afraid to speak to her mother about struggling through depression at age eleven, so she hid the reality. 'In the Jamaican community, you're embarrassed to talk about being depressed. Straight away you get people saying, "you're crazy!  What's wrong with you?" Only a decade later, she finally had the courage to speak out about her mental health.          
'I was only eleven years old but I just kept quiet because I had to protect my mum or I was afraid they would put me into care.' She reflects, 'my home was just a place of deep darkness until Social Services got involved.' 
She remembers other incidents where she swore a solemn oath to secrecy. One time when she was harassed at school over her "hard hairdo" she recounts, 'I didn't want to tell my mum I was bullied for having Afro-hair,' she says. 'I'd have given a million pounds to have been the girl with straight locks on the L'Oréal advert.  But I didn't dare say a single word to my own mother.'
She reveals, 'my mum would have beaten up the kids if she knew. If teachers got involved, they would have ended up getting beaten up too.' 
Without a shoulder to cry on, the young stylist bandaged her wounds and joined a girl gang. 'It was crazy and fun at times, we used to skip school, go shoplifting, have fights on the streets and rob people', she says. 'But deep down I was angry and I hated the world.'
'I was told by teachers I'd never amount to anything. I left School with no GCSEs.  When I found fashion, it helped me escape a life of crime, self-hate and depression.'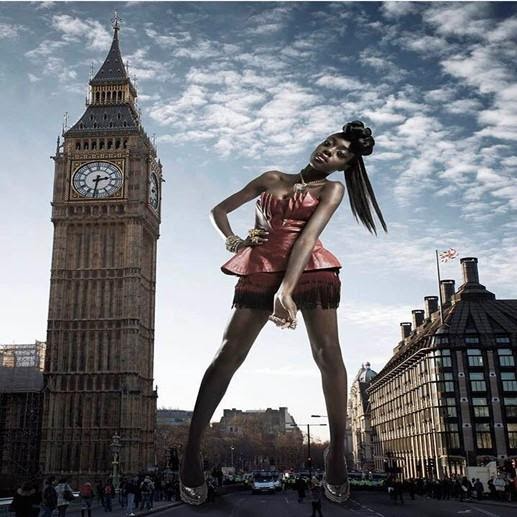 Standing tall, Photographer Daniel A Thomas, Stylist, Denise BrownThat's the moment when fashion changed Denise's life. It all sparked from a sample of African cloth, salvaged from her mum's friend's trip to Ghana. Denise created a hat that was inspired by a blend of these old threads and Queen Latifa. That simple accessory became a trophy that impressed her peers, making her the gossip of the Dancehall scene. 'We were angry so fashion became our identity. Whenever we'd go to a rave, I was the art director. We looked like a girl band!'  Denise's Midas-mania signature style, evident in her sprawling jewellery collection, was the brainchild of a Versace print she discovered before a hip-hop rave.
Synonymous with rule-breaking from birth, Denise's grittiness is what finally landed her a place at London College of Fashion – after five years of applying. She went on to achieve even greater feats, featuring in Time Out and Schon Magazine, as well as styling for Alexander McQueen, Christian Dior, Armani and Mocaro.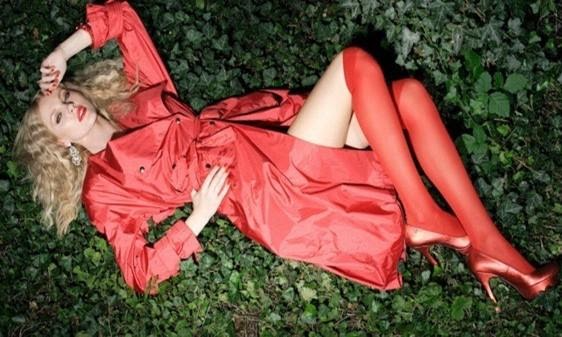 To be red or dead, Photographer, Curtis Benjamin, stylist Denise Brown
Bold, Photographer Condry Cavin Mlilo, stylist Denise Brown, SCHON Mag, Design Ette & HarrMonisha Robinson, founder of London's exclusive menswear brand, 'Mocaro', spoke accolades on Ms Brown's styling bravura. 'The moment she walked through the door she was the fashion oracle I was looking for.' Monisha sensed Denise's unique edge as a stylist from the outset. 'I needed a bold, iconic and uncompromising look for my brand and Denise did not disappoint me,' she says. A few golden gems impressed the Mocaro brand owner. 'Denise knew how to harness the power of a statement with sophistication and charm.' On Denise's demeanour, she says, 'seeing this woman at work made me realise the presence she has as a woman as well as being the iconic stylist she is.'
Iconic: 'Mocaro', Men's 'ready to wear' bow-tie collection, Photo, Dami Oyetade, Stylist, Denise BrownHowever, the zenith of this iconic stylist and trend-setter's career was yet to come. Through a close friend, she was assigned to a styling agency which afforded the chance to create enviable, show-stopping looks for huge A-list pop stars like Kanye West, Rhianna, Ed Sheeran, Tinie Tempah and Ashleigh Walters.  When asked for the gossip, she gushed, 'Ed was just so cool. Good energy y'know? I like when someone just appreciates being where they're at.  He was definitely one of the easiest people I've worked with.'  Yet as predicted, Kanye ranked highest in her books. 'Kanye goes, what's your name?' 'And I was like (fainting), is this really happening?'
Denise claims Rhianna begged her to be her personal stylist for 'This Morning' with Lorraine. 'Basically, Rhianna's stylist missed the plane. I got a call asking me, can you style her? Women celebrities don't tend to like new people, but they gave me a chance,' she says. But a few mishaps happened along the way.
'The label told me the wrong size so the night before GMTV, none of Rhianna's clothes fit her!'
'I thought those shorts are not great, but when she put them on they looked amazing on her. I kept secretly pinching myself but I remained professional.'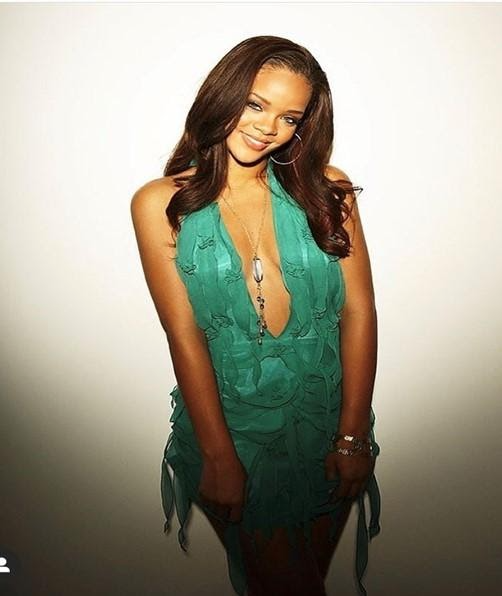 Be green to be seen, Rhianna. photographer, Debbie Bragg, stylist, Denise Brown
Determined, Ashley Walters, Photographer Condry Calvin Milo, stylist, Denise Brown
Denise Brown is a testimony to the fact that a woman's destiny can change no matter what deck they are dealt in life. Whether or not we are born with a silver spoon in our mouths, we all hold the tools to carve a masterpiece. Despite the plethora of negative perceptions circling the fashion industry today, fashion still plays a pivotal role in changing women's lives.
Header Image Credit: Denise Brown