Perhaps the biggest arts discovery of the ten years was when the famed Picasso painting, The Blue Room was found to have a hidden portrait painting of a man underneath! It was found when the painting was scanned with infra red for security reasons and the scan revealed an image of a man resting his head on his hand. It feels like a Dan Brown novel, doesn't it?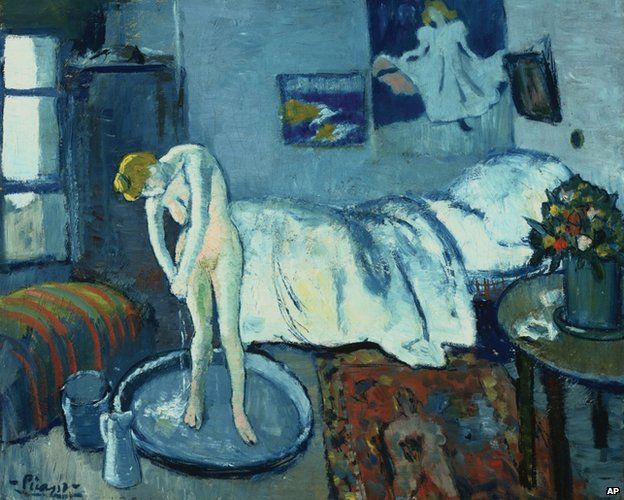 A blue cock. That's what emerged on the fourth plinth of Trafalgar Square one day. It was of course a piece of art that had been on tour and eventually chosen to go on the esteemed open art space. Hahn-Cock by Katharina Fritsch caught headlines across the world for being perhaps the most remarkably bizarre piece to grace the fourth plinth in the last decade.
Not so much a favourite piece of art of ours, but a headline that couldn't not be mentioned. A grotesque amount of 5 priceless Picasso paintings were stolen from a museum in Paris amounting to a loss of a deathly $100 million - amounting to about £80 million when it happened. A huge radius around the Museum of Modern Art in Paris was cordoned off and Paris' police were out in full force. Luckily the paintings were soon found safe and sound.
Marina Abramovic's performance at the Museum of Modern Art spawned a viral video, and various wannabes. The artist sat at a table in the middle of the huge gallery, and people were encouraged to come and sit opposite her, while she interacted with them - wordlessly - in different ways. A reunion with her ex partner Ulay went viral on YouTube and Jay Z collaborated with the artist on his own version, spending multiple hours singing Picasso Baby live in New York's Pace Gallery.
Science met art in a cosmic meeting of worlds with The Rain Room at The Barbican by Random International. Audiences could walk in artificial rain without not get wet, the rain not even touching them. Muggles were befuddled at what magic went into conjuring this masterful piece of art.
Of course, like any of these art forms, we would be remiss for missing out certain names. Damien Hirst is one of them. He exhibited an extensive selection of work at the Tate Modern opening shortly prior to the 2012 Olympics, and pulling in record breaking crowds.
Another name that has made a big impact is Grayson Perry drawing much media attention for his sheer unconventionality and creating work that celebrates true craftsmanship. He literally exudes his art - he dresses it. He has also created many award-winning documentaries. Now the Chancellor of the University of the Arts London, he's the highest profile university Chancellor in the country.
Banksy. I could effectively leave it at that as an introduction. The global phenomenon of street and art. The art which he created in places where he has no permission has become protected and is now worth millions. His signature style of graffiti and stencilling is recognisable everywhere and has seen him considered one of the Greatest Living Britons. What he does is often illegal but we're all at the point of looking past all of that. His legendary pieces address issues such as poverty, police and authority, the government and the economy as well as mass war.
Think we've missed something? Let us know in the comments and we'll add it to the selection!
Header image courtesy of Flickr/SkyNoir