Piper was released in 2016 by Pixar Animation Studios, from the United States. It is a short film written and directed by Alan Barillaro.
The plot is about a hungry baby sandpiper who is forced to overcome her fear of the ocean. Piper earns a 'traumatic' experience from her first time hunting and overcomes it by making a friend and learning from him.
The genre is a short animated family film.
It starts off with Piper being encouraged by her mother to hunt for her food herself, instead of being mouth-fed. She takes a shot but fails miserably. 
The second chapter is all about Piper being scared to death of the ocean but trying to find a way of getting food. She meets a family of hermit crabs and by copying their behaviour, she survives the next tide.
The third chapter shows the audience how much Piper has learned from her crab friend and how it made her an even better hunter than the grown-ups around her.
The film is void of any dialogue or narration. The birds make cute chirping noises to communicate with each other and with the audience. Chirps become more excited, fearful or curious depending on the emotion that Piper feels at the moment. Any actions of birds are also followed by convincing sound effects.
Although the film does start with a seashore ambience, it gets pushed off by the score, which takes control of the big part of the storytelling. The music reflects the emotions of Piper, it can disappear completely and get replaced by a sound effect or drown out all the other sounds, whenever the story calls for it. 
The camera also helps reinforce the emotional state of the main character. 
The camera uses a wide-angle lens whenever Piper feels lonely and makes great use of depth of field to frame Piper and make her easily readable.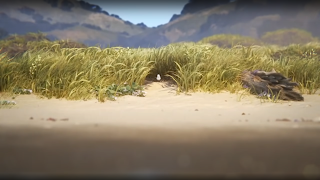 A closeup shot is used heavily to show Piper's emotions throughout the film.
A telephoto lens is used to show something small, like this crab, therefore narrowing the depth of field even further. 
The faithful use of different camera lenses produces an effect of realism and believability, as though these are real characters shot on a camera. 
The animation is purely 3D and is greatly exaggerated, which reminds me of traditionally animated films. Piper's actions and emotions are especially exaggerated to fit her childish excitement.  
The editing isn't intrusive and flows smoothly from one shot to the next. There were a few zoom-ins and zoom-outs to concentrate attention on a focal point or to show more of the environment. The transitions were mainly hard cuts. 
In my opinion, Piper is aimed at both parents and kids. The cuteness of the character and story would melt the hearts of parents and relate to Piper's mother. The younger audience might relate more with Piper herself and to her journey of overcoming a fear. 
When I found out that Piper was released alongside Finding Dori, it made me want to watch it again. I would also like to see a new film about Piper's adventures in the seashore or elsewhere. 
I enjoyed the film very much and would recommend it to anybody who would listen. It has a good message and delivers it, as you would expect from Pixar, in a beautiful and strong fashion. The emotional impact of the film made me watch it at least 5 times, each time noticing something new.