Could you first introduce yourself to the reader?
I'm a theatre maker so I write and and perform my own work. I run a theatre company called Savage Heart Productions with director Joy Forsythe. 
Tell us about your show?
Wolf Tamer is an autobiographical solo show. It's about how grief changes you forever. Growing up, my uncle Neil was my hero. He travelled the world and told me stories of his adventures in Egypt and the North Pole. He rode a red motorbike, always had a cigarette hanging out the corner of his mouth; think Indiana Jones meets the Terminator. In 2015, Neil died unexpectedly. Wolf Tamer is about the months after his death, during which I suffered extreme panic attacks rendering me housebound, and my journey through this debilitating grief. In the show, I revisit the adventure stories Neil told me as a child and share them with the audience. If you see the show you can expect death defying stunts on hang gliders, polar bear attacks, and an encounter with an ancient Egyptian mummy. My aim in writing and performing Wolf Tamer is to help break down stigma surrounding loss and mental illness and to celebrate the life of an extraordinary person.
Image: Andrew O'Hara

Why did you decide to perform at Brighton Fringe?
Brighton Fringe is an electrifying festival; the programme is always so diverse, so surprising. I had enjoyed attending previously as an audience member and thought it had a fantastic buzz and atmosphere. We knew as soon as we decided to tour the show we had to include Brighton Fringe. Joy, the director is also based in Brighton (so I had somewhere to stay!) A no brainer really.
What was the writing process for the show like?
Often quite painful if I'm honest. I started writing it when I was going through the worst of the grief. It was a mixture of pain and catharsis. Many days I couldn't stop writing and worked away till 1 or 2am. It helped me process the experience but there were also times when I didn't want to return to that painful place. 
As soon as I had a first draft, I started getting the script in front of people. I think that's essential when you're writing for stage. When you get something in front of an audience you can feel whether jokes are landing or not, whether you've over explained something or made something unnecessarily abstruse.  I did a few scratch nights and got lots of helpful responses. I also showed early drafts to my writer friend Tina Sederholm, to playwright John Retallack and Joy the director, who gave me invaluable feedback. Writing can be such a solitary process, I find it's helpful to share and discuss my work with other theatre makers along the way. 
Wolf Tamer deals with some dark themes, but at times is performed with a childlike innocence. How did you manage to keep a balance of these contrasting factors when writing the show? 
By writing many, many drafts! And through rehearsals; trial and error. It was always a delicate balance. In rehearsal we began to feel when certain sections were dragging and I would make cuts to the script. In the show, we have these sections which we call the 'diary entry' sections where I talk to the audience about my fear, so it was a case of 'they've had enough fear there', let's get to the next adventure sooner. We liked playing with that contrast a lot: plunging the audience from a moment of childlike innocence into a moment of adult terror. We felt it was an effective metaphor for how mental illness can suddenly overtake a person.
Where do you generally take inspiration from when writing?
The initial inspiration for writing Wolf Tamer was to share my uncle's stories. I remember the wonder I felt as a kid hearing about his daring escapes and wanted to share that wonder. I'm writing two new plays at the moment 'SMASH!' and 'Bury The Wren'. 'SMASH!' is an exploration of rage and corruption set in a London call centre, so I've taken inspiration from 'Faust' and 'The Bacchae'. I want it to have the feel of a classical tragedy and as a result it has structural parallels with both those works. 'Bury The Wren' is an Irish ghost story about untold family secrets. In researching it, I've drawn inspiration from Irish folklore and mythology as well as first-hand historical accounts. It always comes back to telling stories.
Wolf Tamer includes many layered tales, and the line between fiction and reality is often blurred. How much of the show is a true story? 
I would say 98%. The revelations about my own struggles with grief and mental illness are true as are all the facts about Neil's death. Neil's stories are intended to be fabulous, larger than life tales, though he did really travel the world and do many things mentioned in them. He himself was a master of not letting the truth ruin a good story and often said: 'If I've told you once I've told you eighty nine billion, squillion, million, trillion and one times, don't exaggerate.' The takeaway here is that, he absolutely went hang gliding regularly, but may not have escaped a polar bear…
Were you ever tempted to include more than one performer, or was it always going to be a one-woman show?
I think I always knew it was going to be a solo show. I did briefly think about having someone else play Neil, rather than playing both characters (me and my uncle), myself, but it would have felt wrong. I think playing him myself, makes the loss of him more apparent.
Image: Andrew O'Hara

When did you first get into performance? Was it something you always wanted to do?
About age two. My mum ran a drama school when I was growing up. I was a shy kid so having a character to hide behind was a safe way for me to express myself. I did consider a career as a visual artist but always knew I'd end up on stage. 
How has Wolf Tamer been received by audiences? Is there anything you have picked up on which has surprised you? Have you changed anything based on that response?
The audience response to the show has been the best part of doing the show. Many audience members have come up to me afterwards and shared their own stories of loss or fear with me. Some people have come along by themselves, having recently lost someone, and said seeing the show has helped them. Other people have shared their own experiences of depression or anxiety. Whenever somebody shares something that with me, I feel so sad for what they've been through, but so privileged that they feel they can share it. I created the show in order to reach out to people who had been through similar experiences and when you feel you've truly connected with someone, without wanting to sound mawkish, you feel as if your work is making a difference. 
Do you, or have you had, a career outside of the creative industry?
Never what you'd call a 'career', just many part-time jobs to see me through the more financially challenging periods of being an artist. Some of my alternate egos have included:
Life model, barista, burlesque performer, member of the accounts team (somebody royally stuffed up there), drama teacher, tele sales operative and window display organizer.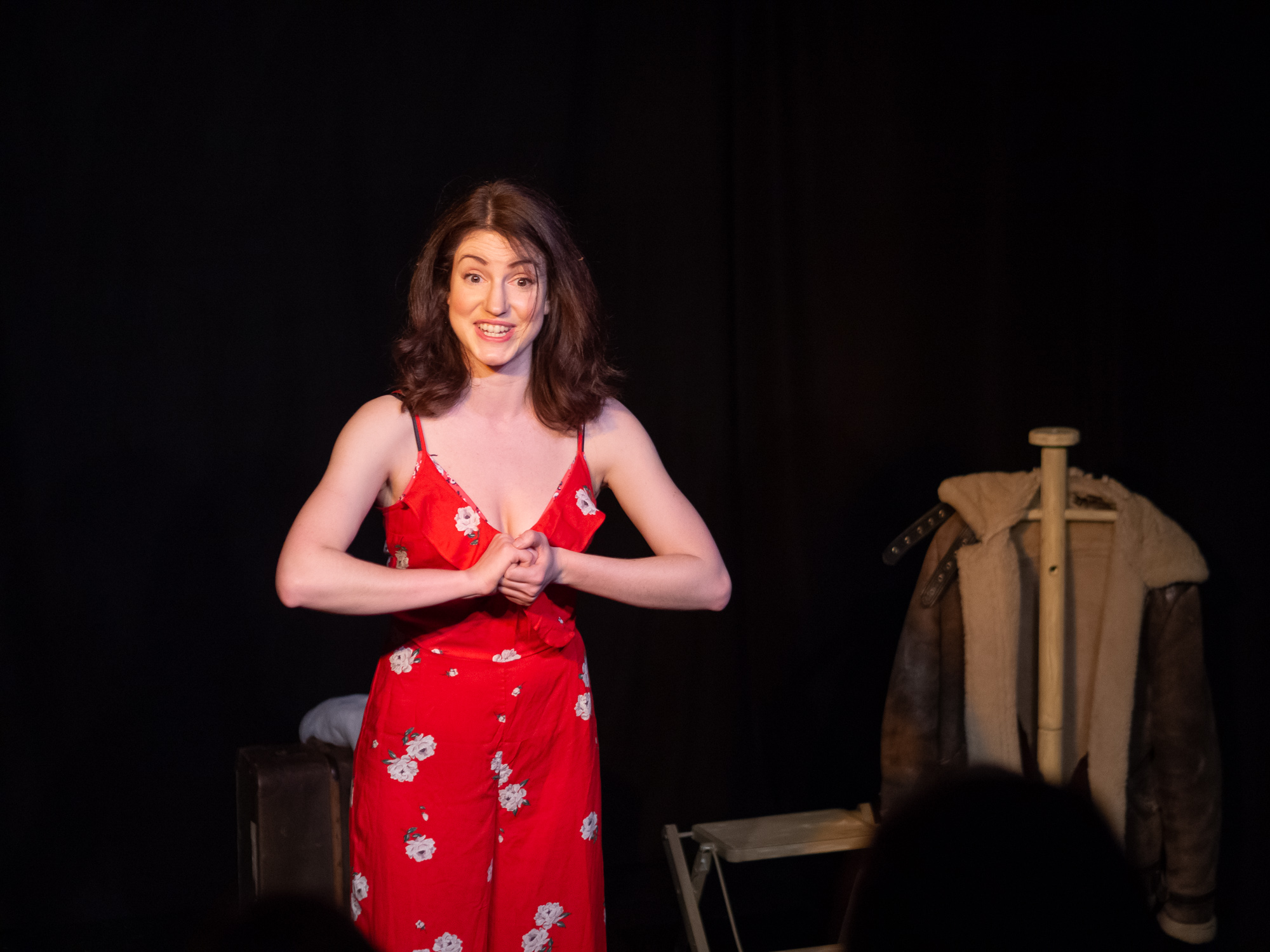 Image: Andrew O'Hara

What changes would you like to see in the industry?
More access to funding for artists. Artists fight so hard to get paid for doing what we do and that's not right. Sharing stories is essential, it has always been part of who we are as humans. It is not a luxury or a frivolity. The arts are beneficial and necessary for everybody. 
If you could send a message to your 16-year old self, what would it be?
I went to see Emma Rice being interviewed recently and someone asked her a similar question. Her response was 'you can't know anything before you know it' and I think that's true, you have to learn your lessons when you learn them. If I could, maybe I'd tell her to enjoy being sixteen and stop being so painfully insecure about the way she looks and the things she says, but I know she wouldn't listen. 
What was the response to hearing you'd made the shortlist for the Best Newcomer award?
I ran around the house squeaking like a Labrador then drank a glass of Cava very fast. 
It was very surprising as it's Savage Heart's first show as a company, my first solo show and our first-time bringing work to a festival of this scale. It was thrilling to get that validation, especially considering the standard of work at this year's fringe. I was absolutely delighted.  
What's next for the show?
I'm putting it to rest for a few months, though I may take it to Dublin next year as well as a few more UK dates. The two new shows I'm working on currently have all my focus. I've been working on Wolf Tamer since 2017: It was my first project as a writer/performer and I'm immensely proud of and attached to it, but at the same time, it's exciting moving on to something new. 
Where can people find out more about what you're up to?