Can you introduce yourselves and your creative backgrounds?
AP: My name is Akash Prasad, and I'm an actor/ writer/ director from West London. I began my journey into acting in 2016. However, I always had a desire to craft and tell stories which led me down the path of writing and directing. 
MA: I am Moses Alexander, a 24-year-old creative originally born in Finchley and now living in Stratford. I have been professionally acting from young, and then I attended Tring Park School for the Performing Arts. At 18, I attended the Royal Central School of Speech and Drama on the BA Hons Acting: CDT course for a short time.
Tell us about your short, spoken word film, 'All the Same'? 
AP: 'All the Same' is an educational experimental piece. A social commentary on how we interpret and deal with race and a love letter to theatre and the Spoken Word genre. I started writing for 'All the Same' in 2016, around the time of the Paris bombings. Following the backlash, Muslim communities were hit with across Europe struck a resonance with me, and I knew I wanted to use that emotion to create something positive from it. 
Four years later, during the height of our global lockdown, the world witnessed the events surrounding Breonna Taylor and George Floyd's death that would spark protests worldwide. During this time, I knew I had to find a way to navigate through the rage I was feeling. One day, when randomly scrolling on my notepad app, the untouched draft of 'All the Same' was still there, and it was in desperate need of some updating. 
What was the process like in creating 'All the Same'? 
AP: In the beginning, one major challenge was being able to film within a venue space during the covid pandemic. Until lockdown restrictions were eased, we were limited in what we could do. It made sense to film within a theatre, especially at a time when advertisements tried direly to convince creatives to retrain in other industries. It became a fight to ensure theatre did not lose its place in people's lives hence the decision to infuse the film with the theatrical setting of 'All the Same'. The last step was finding a scenario to tie everything together. After some time, one idea made the most sense to me, having two cages in the middle of the stage, with these two characters unable to leave until they had resolved. The cages act as a metaphor for a psychological prison, as there is nothing physically prohibiting our two protagonists from leaving their cages.
Why did you choose spoken word to convey your message?
AP: Initially, I had begun writing All the Same as a hip-hop song in 2016, so with the medium of theatre in my head, spoken word seemed to be the most effective choice for conveying the film's messages because of its performative merits.
Spoken word has always held a special place in my heart. Creatively I feel as though you can push a lot of boundaries with spoken word. You can break the fourth wall, explore hyperreal situations and connect with an audience on a level reminiscent of Shakespeare's works.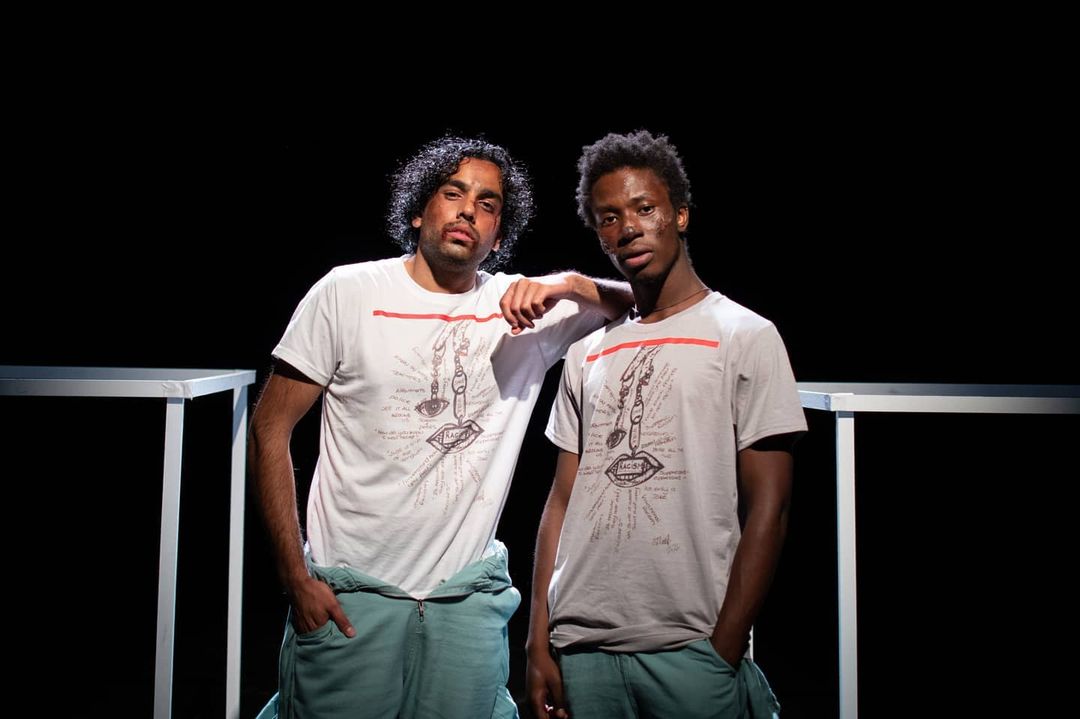 All the Same, was set to be released in 2020; can you tell us what happened?
MA: After filming a majority of 'All the Same' in June 2020, we encountered setbacks whilst releasing the film publicly. This was due to censorship issues regarding the police brutality footage present in the film. We had been compelled to comb through this footage and find alternative shots. However, it became a significant challenge to not water down the significance of the messages at the core of our film. Subsequently, we shot brand new scenes featuring a variety of creative face and body paints which now breathe new life into 'All the Same'.
AP: I felt this was still a massive part of the problem; a billion-dollar company deciding to cease all forms of discussion around a topic that created controversy. Real-life police brutality footage was used consistently in the original cut of 'All the Same'; however, YouTube restrictions forced viewers to confirm their age and identity. Realistically not many people are going to put themselves through all of that to watch a 9-min short. As infuriating as it was to see something we had put our hearts and souls into being shot down so easily despite finding that same censored footage on YouTube, we were left with two options. Stop there and settle for a censored release or create an alternate version that we would not rush to release but instead take to film festivals and build more recognition before an online release. 
How did you overcome the censorship issues you were facing?
AP: By entirely replacing the footage in 'All the Same' demonstrating real-life violence with newly filmed sequences, we were able to overcome the censorship barrier. At first, I think Moses and I were a little apprehensive about watering down the film's message by replacing the archive footage, which showed the reality of the circumstances. However, by crafting new sequences which reinforced our original messages of the film, we reached a satisfying solution. The newest cut of 'All the Same' has since been making its way through the festival circuit and has picked up three awards.
'All the Same' has a very important message. How much weight do you think that message carries two years on from the BLM protests? 
AP: I think it carries just as much, if not more weight, now than it did two years ago. At every turn, there seems to be a new injustice the world is faced with. From the conflict in Ukraine to the brave women in Iran protesting for their rights, those starving due to natural disasters, and a disproportion of resources. I feel as though the themes of 'All the Same' will continue to be relevant so long as there is a fight against inequality, injustice, and prejudice in the world.
MA: I think the message in 'All the Same' still carries significant weight because it's a timeless message at its core. It's a truth we're born into this world knowing, and only through internalising pseud-scientific myths surrounding other "races" do we learn any different. Therefore, this is a message to continue to come back to. Our core drive. Our innate understanding. In order to free ourselves and truly see each other as we are.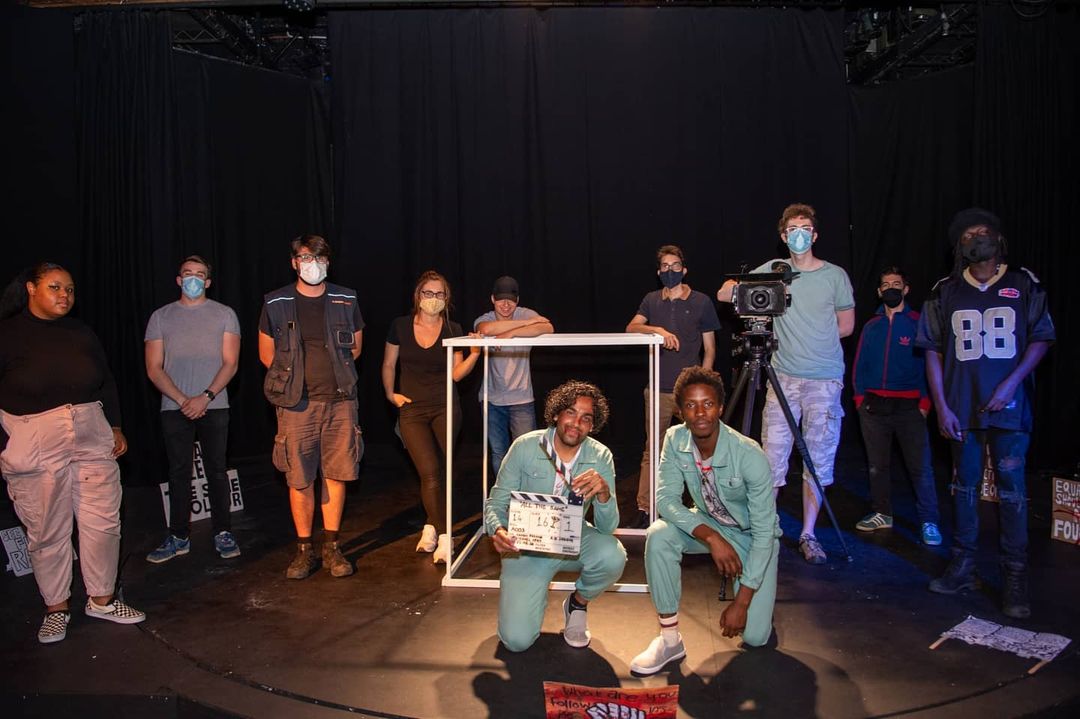 What do you want people to take away from the film?
If people can feel an emotional attachment to the film on any level or feel they have taken something valuable from watching it, that's the main goal of 'All the Same'. To educate, inspire and bring people together.
Where can people watch it? 
'All The Same' will be available on the YouTube channel MYM: Million Youth Media at 6 pm on Monday, 10 October. 
Where can people find you online?
@officialaprasad and @_mosesalexander on most platforms. 
Anything else you'd like to add? 
Please tune in at 6 pm for the release; it will make a world of difference to have people tuning in for the first few hours of the 'All the Same' release.
Header Image Credit: Akash Prasad