Commemorating the 20th anniversary of two of their most innovative albums, Radiohead, in collaboration with Epic Games, have created a virtual art exhibition for their eponymous records Kid A and Amnesiac, originally released in the 2000's. Aptly titled KID A MNESIA EXHIBITION, the showcase intends to be both a love letter to those who may have grown up adoring the records, and an immersive art experience for those who understand that the project is a non-traditional videogame experience.
Radiohead are known to push boundaries of experimentalism, conjoining facets of music, art, politics, and technology, effortlessly interweaving them into post-modern masterpieces that have encapsulated the ebb and flow of the ever-evolving entertainment industries and technologies. Nowhere is that more apparent than within the records celebrated in this exhibition. Kid A saw the band ditching their guitars and rock sensibility for the more delicate implementation of synthesisers and soundscape, whilst keeping their abstract edge. The albums were a significant turning point for the group, who were deemed formulaic up until that point, though still rather impressive.
The exhibition was originally penned to be a physical installation, before the pandemic shook the world and creators were forced to look towards digital avenues. Although a back-up plan, the virtual version of the exhibition is truly remarkable in practice, and certainly fits with the themes surrounding the records. If the showcase was instead celebrated in person, it is doubtful it would have had nearly as much impact.
Kid A and Amnesiac harbor soundscapes that almost hypnotise, they take you out of the real world, so to have the records highlighted in a way that is so utterly removed from reality seems like the perfect marriage. The exhibition uses the technology expertly well, whilst meandering down creepy hallways and rooms, images will constantly distort and warp into view in a way that can only be achieved through a screen. The best aspects of the showcase are definitely the areas that would otherwise be impossible to recreate in real-life.
The event was created by Radiohead frontman Thom Yorke, producer Nigel Godrich, and a team of game developers, alongside visual art brought to life by long-time collaborator Stanley Donwood, whose iconic work has become synonymous with the band throughout their long tenure. Donwood's art, Radiohead's music, and the interactivity that the development team bring to the virtual space all work together in a beautiful yet gloomy harmony, with each element able to intersect with another in a way that is spectacular to witness when arriving at each of the many rooms within the virtual world.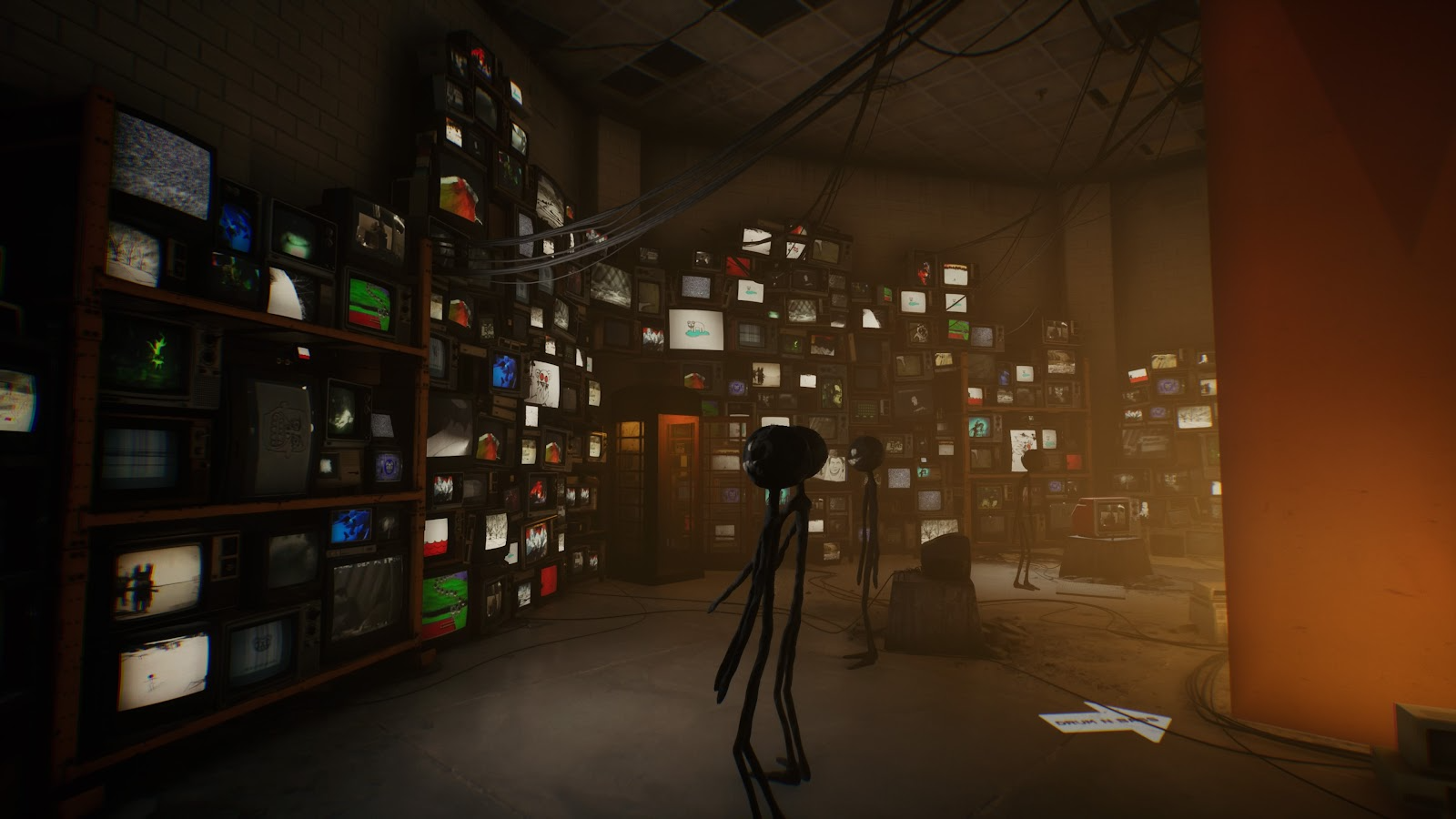 All of the sounds that players are greeted with come from the two albums, but in ways that listeners will have never heard before. Well-known melodies from tracks are dismantled, shattered into sections and regurgitated into sonic experiences as you make your way through. The snippets are even sometimes warped by the players' own movements, giving that extra bit of immersion and intrigue into the world, and making the visitor want to see what else they might be able to uncover in between the lines. When full sections of songs are played, it is when they are the most necessary, whether that be the swirling synth of 'Everything In Its Right Place' upon the entry of a creepy hallway, or when shifting through walls to be greeted to the powerful pulsating bassline of 'The National Anthem'.
Lyrics from the records adorn walls, floors and ceilings, alongside various promotional art pieces from the time, allowing for further insight into the songs and their messages, albeit through the vague yet insightful phrasing of Yorke. This is all whilst Donwood's stick-like demon-esque characters greet you around every corner, beckoning you to delve deeper into new sections of the exhibition, to find new, interesting information regarding the tracks and gripping visuals to aid it. 
The 'game' is constantly attempting to test patience and fascination through feeding you just enough, but never a complete picture. It is a truly captivating time searching around the virtual building in an attempt to find the multiple snippets of songs that Radiohead fans love with such gumption. But KID A MNESIA is not just for fans of Radiohead, and is just as accessible for those who may not know of the band at all, giving them a chance to interactively engage with the group's music, art, and psyche in a way that is fun, retrospective, and fascinating to behold. 
KID A MNESIA is a wonderful celebration of some of the band's greatest work, but is also a perfect starting point for future fans who want to learn about the band and their themes. At first glance, the project looks barren, almost post-apocalyptic, however beneath its rough, melancholic, and foreboding exterior, a vast amount of beauty and charm can be found nestling in the darkness, but only if you want to find it. In essence, the exhibition feels very much like a Radiohead album does, and I am sure that both those behind the exhibition and their die-hard fans alike would expect and want for nothing less.