Akvile Magicdust is an artist based in Vilnius, Lithuania whose illustrations and paintings are a colourful delight in an incredibly unique style. Not only does she create artwork, but she also writes and illustrates her own comics and zines.
I found her work when I was looking across the free platform Creatives for Ukraine, a website that has allowed artists to present their work as a response to the ongoing war in Ukraine. Her bold painting 'Storks' was both beautiful and intriguing and I instantly wanted to know more about the meaning behind it. 
I interviewed Akvile Magicdust about this piece for Ukraine, and her interests outside of art. It was lovely speaking to her and a great opportunity to showcase her variety of artwork.
How did you initially get into art and start creating pieces in your particular style?
I have been drawing since childhood, and then went on to study at Vilnius Academy of Arts. I was shy about using my own voice there, as it was a very critical space for creation. It was only after graduation I got to paint and draw in my own style and talk about topics that interested me.
How does Vilnius inspire you as a city?
I feel that it's very poetic and the activities here are connected to nature. We go to swim in the lake any summer day if we want to, and in the winter we can walk in the forest and make bonfires. I love cycling around the green areas. Even really urban activities like skateboarding can be very romantic. Our DIY skate spot is just on the riverbank and the best sessions are in the purple sunset. I think it translates into my art.
I first noticed your work on the Creatives for Ukraine website. What is the story behind your recent work 'Storks'?
Just 300km from my home there is a border with Ukraine where there is a war. I was reading the news [about] how Russians use the worst means by not letting humanitarian aid in the cities of Ukraine, and are bombing hospitals and killing civilians. Immersed in complete sadness I tuned into a radio programme about nature to distract myself for a bit. But there is no field that this war isn't affecting. Biologists were talking about storks that will soon be migrating from Africa to Lithuania, as they do every spring, through the Ukraine sky.
That image was stuck in my head for a few days. I kept imagining these storks flying through this war. It also gave me hope, these birds of freedom, still managing to fly through avoiding Russian bullets. They also fly across Syria as part of their trajectory.
Storks, by Akvile Magicdust, http://www.akvilemagicdust.com/
You can certainly see that hope reflected in the style of the piece. What impact do you think Storks will have on people?
I didn't intend to do any activism. I just painted this image that was stuck in my mind for a few days. It was like therapy. I sold this artwork in an Instagram auction and with the guy who purchased it, we have donated all of the money to an NGO which helps Ukraine. There are prints that are still available, so I hope the money we raise will help buy bulletproof jackets or first aid kits.
Moving away from your work about Ukraine, although important to highlight,  you also create really fun pieces. I love the look of your comics and zines! It feels like they have a particular female focus. Does womanhood influence your work a lot?
Right! Womanhood is one of the themes very present in my art. I guess I just search for my identity through these stories. Some of my comics are autobiographical. Others like my last comic book 'Bites' are stories of other women. It can be very confusing to be a woman in the world and I try to find all of the good and amazing aspects of it.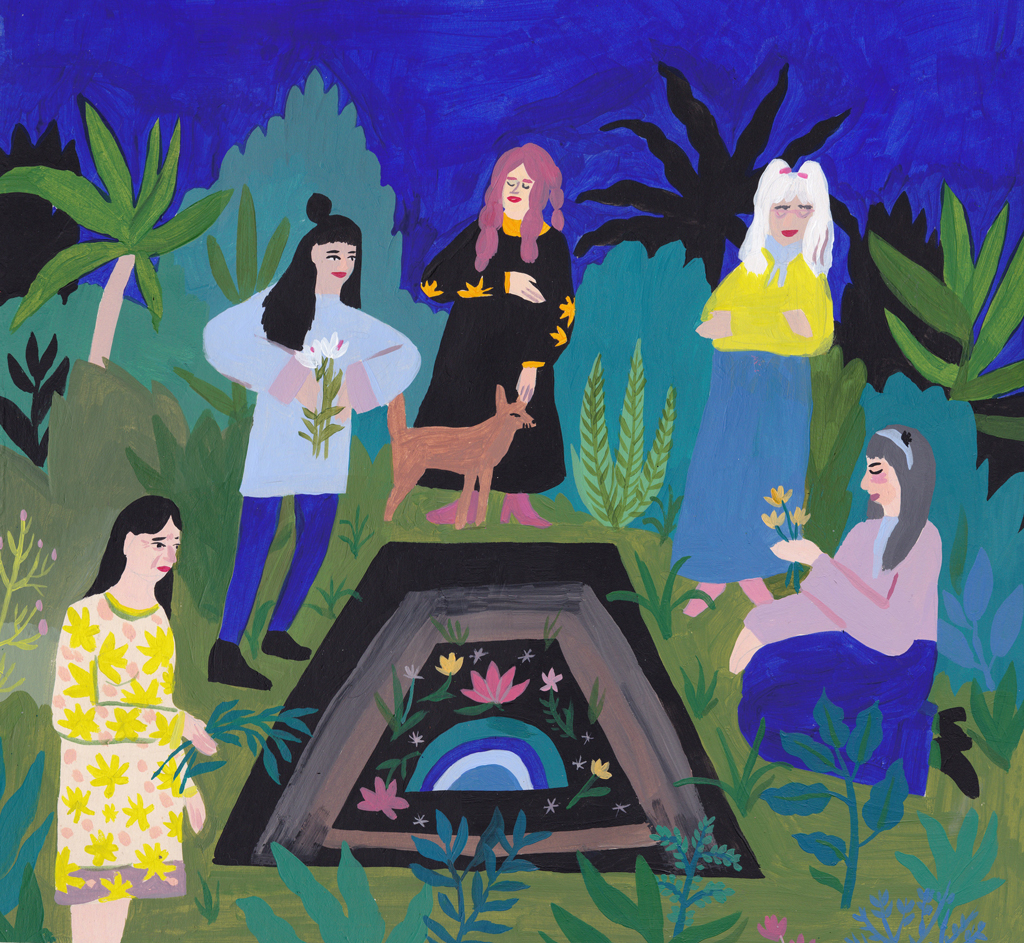 One more tropical night, Akvile Magicdust, http://www.akvilemagicdust.com/
Finally, you mentioned that you skateboard! I've just started and I'm terrible. Do you have any tips for people initially learning?
Just keep on going, and be constant and stubborn. Keep on trying – the beginning is the hardest part! Embrace the failure and try to enjoy the process. Later as you learn more things, it gets a bit more rewarding. I think in the beginning, I was really embarrassed to go to the skate park or street spot on my own, but the desire to skate was bigger. 
I remember getting up at 7 in the morning and going to the skate park so I could have it for myself. Later I became more relaxed and now the skatepark is my home. When I find time to skate it's my 'taking care of myself/self love' time and joy. If you are struggling with a trick you can always ask the advice of other skaters, generally skateboarders are super friendly and helpful. And if you're too shy- YouTube can be a good help too!
Thank you for taking the time to talk about your work, it was great learning more about what you do. 
---
I highly recommend following Akvile Magicdust, and browsing the incredible work she creates. Her work and zines are also available to purchase on her website!
Instagram: @akvilemagicdust 
Facebook: @Akvilemagicdust 
Website: http://www.akvilemagicdust.com