If you're looking for a way to process the ups and downs of the past year, why not settle into your seat and enjoy a guided tour of 2020's best visual artworks from across the globe. 
---
Reaching Out, Thomas J Price
View here: http://www.thomasjprice.com/home-3
Thomas J Price creates pieces of monumental sculpture in order to engage with issues of representation and how different groups are perceived within society. Reaching Out functions as a psychological portrait and, through the portrayal of a mobile phone, speaks to contemporary experiences of balancing isolation and connection. This sculpture is also one of the very few public sculptures of black women in the UK. Price depicts black characters in his sculpture in order to encourage dialogue over representations of black people in UK media. 
Viral Paintings, Marc Quinn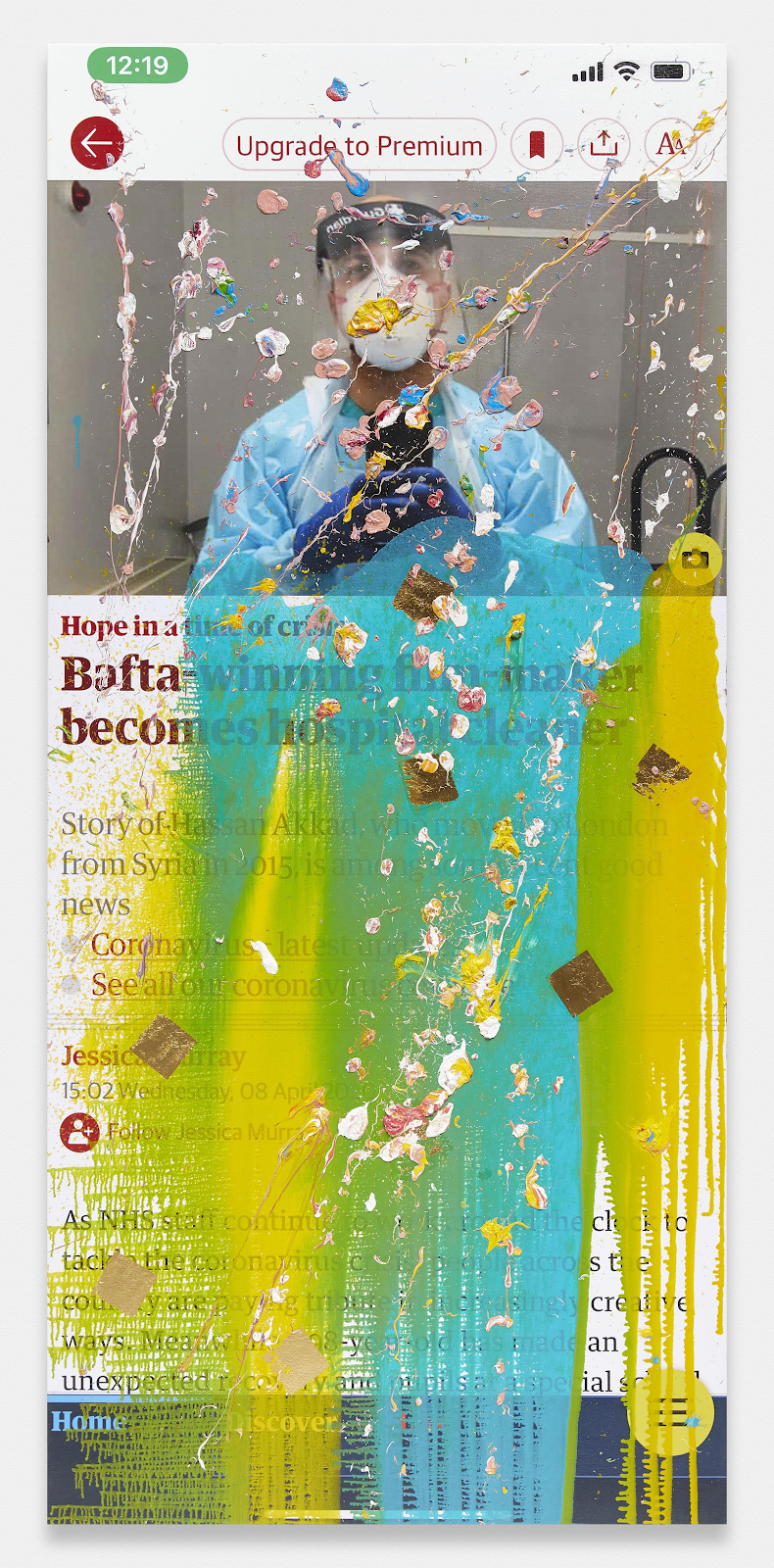 View here: http://marcquinn.com/studio/news/viral-paintings
Marc Quinn set out to explore how current affairs are communicated via virtual platforms and, each day during lockdown, printed a screenshot from his iPhone newsfeed onto a canvas before overpainting this with multicoloured oil and gold leaf. He aimed to describe how Covid-19 has been largely experienced by the public from our homes via our phones and TV screens. Did you experience newsfeed apathy during 2020? Viral Paintings encourages us to realise our reliance on screens as our source of news. Find out more about this project here. 
Etherea, Edorado Tresoldi
View here: https://www.designboom.com/art/top-20-art-installations-of-2020-12-10-2020/
Eldorado Tresoldi's installation art is located at the Villa Borgheseas part of the 'back to nature' exhibition and is constructed of wire mesh. Althogh it was originally constructed for Coachella 2018, it's setting in Rome feels somewhat more appropriate considering its neoclassical Renaissance architecture. The installation is 11m high and visitors to the villa can walk through and around the artwork.
Watering the plant, Lucia Buricelli
When Italy became the imposed lockdown at the beginning of March, photograper Lucia Buricelli chronicled her time at home during the month of March through her artwork. She begun documenting her changes in routine and the consistency of the view from her apartments window. The sharp lighting and shadow in her lockdown photography series is particularly striking, perhaps representing a nod to her native city of Venice and its long tradition of vivid colouring.
Dr Salman Visiting His Family, Nick Richards
View here: https://artsandculture.google.com/asset/dr-salman-visiting-his-family-nick-richards/FAGYGY2Urc2XMQ?hl=en
During the first UK lockdown, many artists undertook projects to paint portraits of frontline and NHS workers in order to commemorate their contribution to fighting Covid-19. The portrait depicts Dr Salman, who was shielded from his asthmatic youngest daughter during the pandemic, and as a result he missed her birthday. Dr Salman said, "seeing her through a screen or a window is better than seeing her on life support." You can find more Portraits for NHS Heroes here. 
Creek, Landry Dunard
View here: https://www.washingtonpost.com/arts-entertainment/2020/07/06/art-pandemic-readers/?arc404=true
This photo was taken by a member of the public in Takoma Park, Maryland, to savour quiet moments in nature at the height of the pandemic. Landry Dunard stated that she found a sense of solace in using her large-format camera to capture a long-exposure shot of this creek, which she would often pass through during her daily exercise. If there is a place you have rediscovered as a result of lockdown, consider what artwork you could create to commemorate a place that brought you peace. 
Several States of Mind, HM Prison Dartmoor
View here: https://www.koestlerarts.org.uk/shop/artworks/several-states-of-mind/
Several States of Mind is a multimedia piece by the prisoners of HM Prison Dartmoor detailing different moods experienced by the prisoners during the Covid-19 lockdown and the escapism which creativity provides to inmates. The work won the Robin & Margaret Weiss Silver Award for Sculpture 2020 and is currently on show at Koestler Arts outdoor installation, No Lockdown in the Imagination, which aims to highlight how creativity is part of many rehabilitation journeys in the criminal justice system. 
Headlines, Rhona Nantege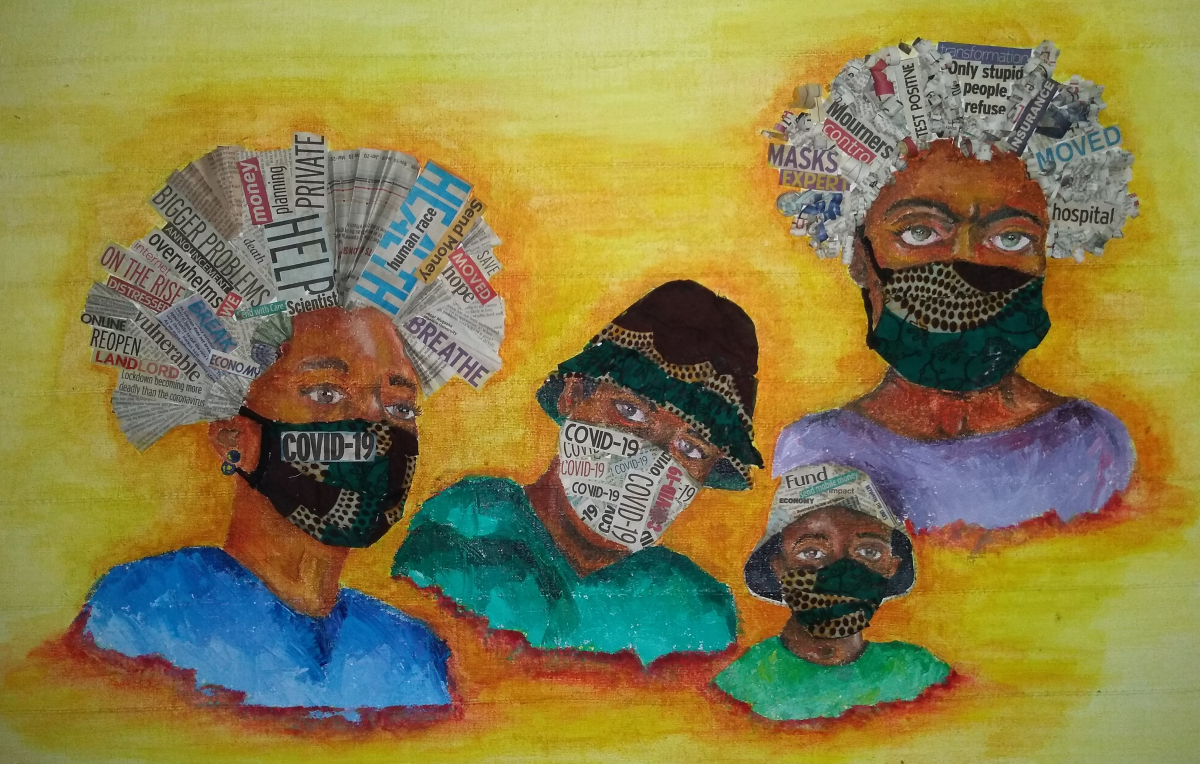 View here: https://www.santheafrica.org/news/scientists-and-artists-collaborate-create-covid-19-masterpieces
The Sub-Saharan African Network for TB/HIV Research Excellence (SANTHE) undertook a project in 2020 to promote community engagement and encourage collaboration between artists and scientists. SANTHE called for African youths to submit artwork representing their experiences of Covid-19 which were then judged by their community and exhibited online. Headlines is one entry by Rhona Nantege. You can find more entries here. 
remembering a brave new world, Chila Kurami Singh Burman
View here: https://www.artsy.net/article/artsy-editorial-best-public-art-2020
This installation at the Tate Britain in London aims to ignite hope after a year of grief and disappointments and, after the opening coincided with Diwali, celebrates new beginnings and the triumph of light over dark. Burman's work combines Hindu mythology and Bollywood imagery and juxtaposes this against the imperial facade of Tate Britain. Words by Rani of Jhansi – who led a mutiny in India against British rule in the 1850s – are illuminated in neon.
Artwork commemorating George Floyd, Banksy
Anonymous street artist Banksy created this masterpiece days after the death of George Floyd and pays tribute to an anonymous black figure alongside depicting a candle which sets the American flag burning. He released the work on Instagram with a lengthy caption. "People of colour are being failed by the system. The white system. … This is a white problem. And if white people don't fix it, someone will have to come upstairs and kick the door in."
Now read the rest!
We're releasing Top 10 articles every day in the lead up to New Year! Click through on the banner below to find out what makes our list of the must consume culture! 
Has a piece of visual art captured your attention in 2020? We'd love to hear from you on Twitter or Instagram.