Les Miserables Review
Note: this review contains spoilers
On the 23rd January, I travelled to Sondeim theatre in the West End, London, to see a performance of the legendary "Les Miserables". I'm a huge fan of the play itself; I've seen this show countless times on TV, watched the film adaption, as well as having seen the 25th Anniversary Concert online. However, this was my first time seeing the piece in theatre, and I have to say that my hopes and expectations were very high.
The play is based on the Victor Hugo's Novel "Les Miserables", which quickly became the fastest-selling book in French history. It's set in 19th century France during the 1830 Revolution, which saw the workers rise up against King Charles X and his support for the rich. It's a story of love, loss, hope, and rebellion.
The main antagonist is Jean Valjean (Jon Robyns), who for decades has been hunted by the ruthless policeman Javert (Bradley Jaden) after breaking parole. He then agrees to care for factory worker Fantine's (Chanice Alexander-Burnett) daughter, a child called Cosette (Charlie Burn) who when she's older swiftly falls in love with Marius (Harry Apps), a member of the rebellion in the barricades. I was over the moon when I discovered that the cast for this piece is essentially the same touring show that directors Laurence Connor and James Powell created in 2009 to mark the musical's 25th anniversary, which for me is the best rendition of the play to date.
When I first stepped into the auditorium, the first thing that struck me was the barricades. They were positioned on either side of the stage, and were incredibly elaborate. I found that their meticulous nature was so convincing, it felt as if I was on the streets of France. I found this to be a theme throughout the show; the authenticity. Rather than a spectacle, it was more raw and truthful, which ultimately made it so much more personal and moving to watch. 
Another thing that drew my attention was the breath-taking scenery. Based on paintings by Victor Hugo himself, I found them to be beautifully simplistic and haunting representations of 19th-century Paris. A part of this beauty is that they could have also been anytime, anywhere, once again embracing the idea of making it personal and relevant to the audience. The backdrop and due to clever lighting and projections, made the clouds look like they were moving across the sky.
Speaking of which, the lighting throughout the performance was incredible; it never failed to catch the mood of a scene. An example of this is during the musical number "A Heart Full of Love" – my favourite song 
from this play – when Marius and Cosette first sing of their love for one another, as Marius's friend and secret admirer, Éponine (Sha Dessi), sadly watches on. It's worth saying that Apps and Burn gave a brilliant performance here since this passionate scene is very challenging vocally. Their harmonies were effortless and Burn's top note was purely angelic, I have to argue that she was the best vocalist in this production. The lighting splits the stage in half: the couple's side is warm and light, with soft pink and red hues, and Éponine's side is darker with cold tones, perfectly setting the two different atmospheres during this song.
Furthermore, I found the use of spotlights throughout the piece very effective. The best possible instance when this happened was when the barricades were invaded and all the men shot dead. A blinding spotlight was shone onto each of them in turn, representing a gun, and as the light hit them the sound of a gun was heard, and they dropped dead. The personification of the spotlights was very dramatic and very smart, as was the lighting for the rest of this show which I can safely say thoroughly impressed me. 
Personally, I found this scene in the barricades particularly heart wrenching. It made me cry. Twice. There were pyrotechnics, flashing lights, and the actors gave brilliant performances. They slowed down the pace of their movements to pretend they were going in slow motion, and as they were shot, fell back while slowly flailing their arms, their expressions heart breaking. I feel I was as sad as I was at their deaths because of how attached I'd gotten to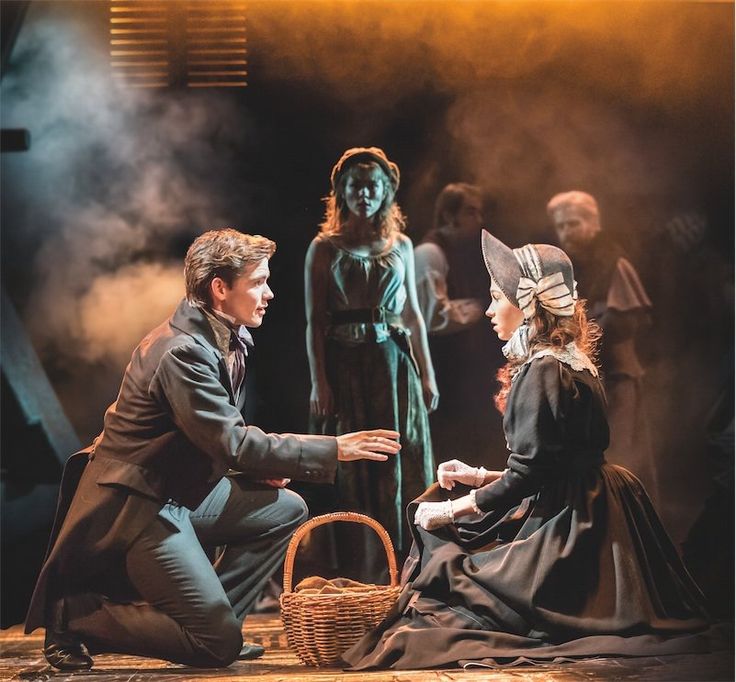 each of them leading up to this point. The actors' characterisation and ability to connect to the audience was amazing. I speak for the rest of the audience when I say this as when I looked around, I saw many others sniffling too.
The most notable aspect of the show by far was the performance from the actors. Although Madame Thénardier – played by Josefina Gabrielle – is a comical character, she also symbolizes the desperate struggle of the French people against poverty and famine. Gabrielle had the perfect balance between the two: she got every laugh, which I wouldn't put down to just a good script, as well as expressing the gradual deterioration of her character throughout the play with a desperate resilience shown by millions of others during the revolution. Even though, she gave a masterful interpretation of Madame Thénardier, I will say that the costume was a massive aid. Ellie Carroll, head of wardrobe, did an excellent job with costume, providing a clear portrayal of the different classes in 19th-century Paris, a fundamental element of the storyline.
However, another actor which drew my attention for the wrong reasons was Sha Dessi, who played Éponine. She had her moments when it was clear that she's a very talented actor, such as Éponine's death. Her expression was soft and pained, her voice strained yet gentle, and her movements were minimal, but hypnotising. It was a quiet death, the subtlety of which had the audience on the edge of their seats, holding their breath, captivated and heartbroken. Her performance here was nothing short of outstanding, which contrasts greatly to her earlier scenes. In her song "On my own", I found her body language and posture to be awkward, and it felt as if she was uncomfortable on stage, which unfortunately didn't match the mood of the scene or her character at that moment in time. If that is how she's interpreted Éponine feeling then, I'd have to say it didn't work for me.
The only other possible criticism I could give this production (besides a few times when there was feedback from mics) was how sparse the cast was. I don't blame this on them at all because of course Covid restrictions are still very tight, and I do feel that the multi-rolling they had to do was effective, but the sound on the final song "Do you hear the people sing?" wasn't quite as whole and powerful as I'd have hoped. It's a song of strength and rebellion, and although I know there's not much they could have done about this, I would have liked a fuller sound.
After this song, at the end of the show, they got a well-deserved standing ovation. I left the theatre singing all the songs and planning my return trip, it truly was a brilliant piece. However, I feel a big part of the reason I adored this show is because of how much I love the play Les Mis, and so I'd have to say that as far as theatre productions go, I'd call this a masterpiece, but as far as productions of Les Mis go, I'd call it good. Nonetheless, I recommend to everyone reading this review to book your tickets now to see the performance which will break your hearts.
By Madeleine Cartelet