What was the title of the exhibition/show? 
I have just visited an art exhibition called Pop Art In Print, at Banbury museum. It showed different Pop Art pieces by a variety of artists including, Roy Lichtenstein, Richard Smith and Damien Hurst. 
Why did you choose to attend this exhibition/show?
I chose this exhibition because I am fascinated by the Pop Art style and was keen to see some actual pieces (rather than looking at photographs in a book). Another reason I chose this exhibition was because I am particularly interested in the work of Roy Lichtenstein and Andy Warhol - their work is amongst my favourites. 
Who were the artists and what do they create? 
Some of the pieces that I viewed were by artists such as, Allen Jones, Roy Lichtenstein, Richard Smith etc. It was interesting to see the differences and similarities between each artist's work, some kept it more simple and closer to reality and others decided to make their work abstract, for example using photos and splitting them up and putting them into a different scene. 
What did you see?
I saw many pieces that followed the same colour scheme of bright colours, I don't think there was one painting that was in a dark colour scheme, this was one of the only similarities between the pieces as they varied in style. Some of the pieces were constructed from photographs others were painted by hand. Here is an example of a piece by Allan D'Arcangelo named 'Yield' - I like it's simplicity.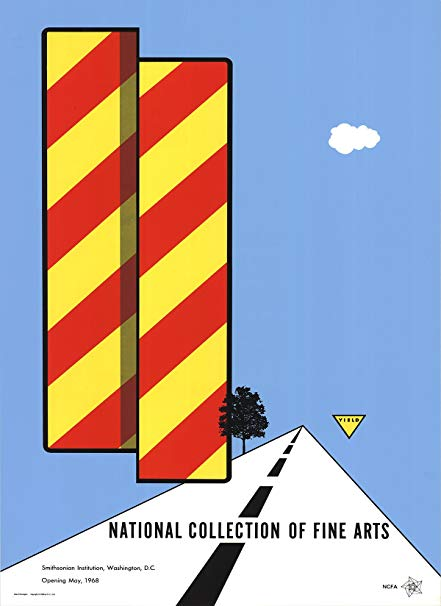 What were your first impressions?
I first noticed the bright colours and then noticed the way each art piece differed. A few pieces of art immediately stood out to me because they were unlike anything that I had ever seen before. The exhibition itself was quite small, but well presented well, the lighting wasn't too bright which allowed colour and detail to stand out. Unfortunately, we weren't able to take any photographs of the actual artwork due to restrictions placed upon the museum.
Did you find anything particularly interesting to you personally?
I found the Roy Lichtenstein pieces particularly interesting because of the the bold and eye catching colours and patterns. I like the way he took a normal picture and added bold dots to it, this made me feel drawn to his work. It's interesting because when you stand back from the art piece, you don't notice the dots so much which then allows the solid filled sections to stand out further. Here is an example of his work: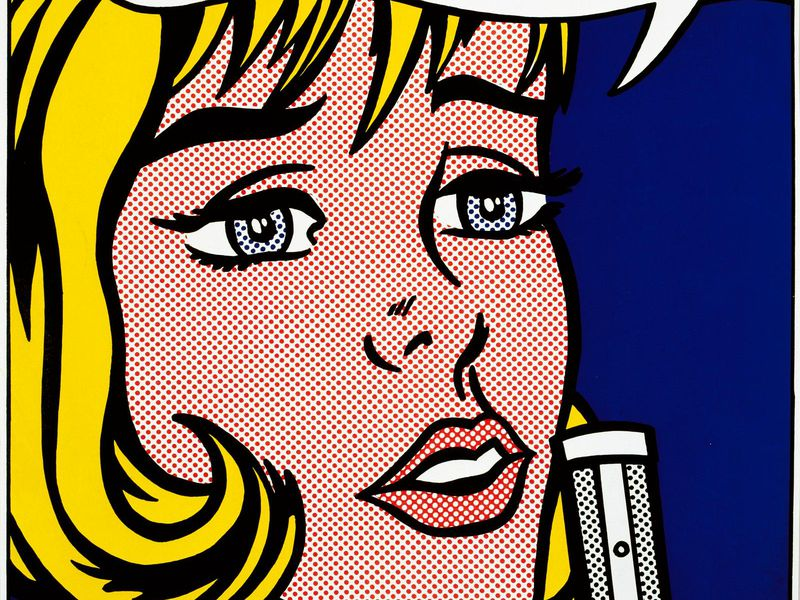 What did you learn?
I learnt the story behind certain pieces and how the artists came up with the style, theme and content, and in some cases, why they chose to use certain materials and mediums. I also learnt about artists that I have never seen or heard of before.
Did you enjoy the experience overall? Why?
Yes, I enjoyed myself because it was fun to learn about new artists and the stories behind why some of my favourite artists created their work.
Did it make you think about any art form differently?
Yes, it made me think differently about Pop Art: how the artists used different mediums to portray their thoughts (sometimes serious) but always in a fun and exciting way.
What have you put in your portfolio to prove you went to this activity?
A photograph of myself in a part of the exhibition and a photograph of our entry tickets. Unfortunately, we were not allowed to take any photographs of the art itself (due to restrictions placed by the V&A museum).