The Design Museum
Azzedine Alaia - The Couturier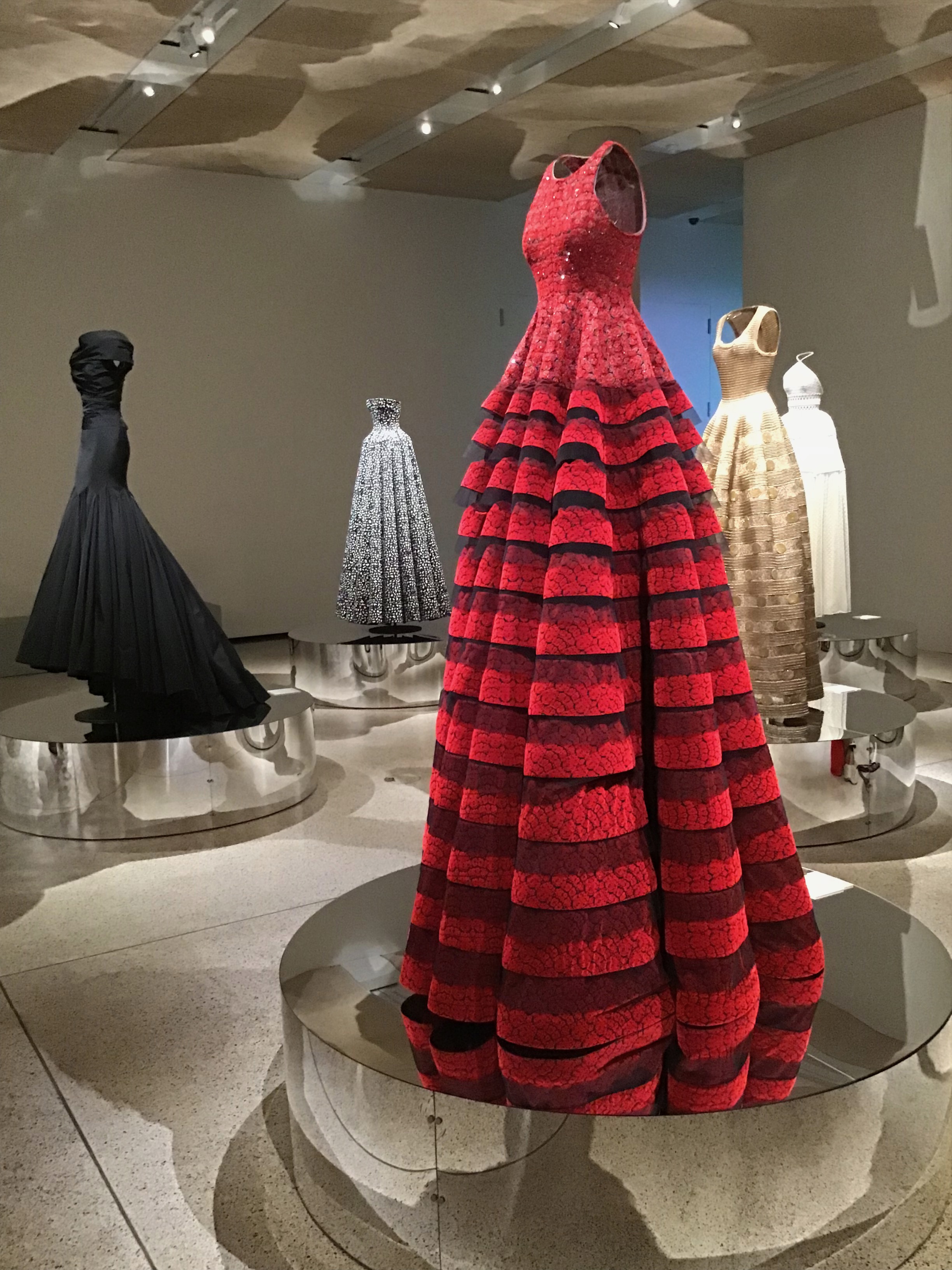 The Exhibition:
The Design Museum is a lovely light and spacious place.  There was plenty of room to wander round, and all the dresses (there were no shorts or trousers) were beautifully displayed on mirrored stands.  I really liked this because most of the dresses were floor length but the mirror bases allowed me really see the attention to detail in the hems.I also particularly liked being able to see the detail in the back of the dresses.  Some of the backs were even prettier and more intricate than the fronts.  
Azzedine Alaia always dressed in a black Chinese silk suit (I think in his photos he looks like he is wearing pyjamas but I imagine they were very comfortable).  Many of his dresses are black and fit like a second skin and were very figure hugging. This earned him the nickname the 'King of Cling'.  He said " I like black, because, for me, it's a very happy colour."I like colour so decided to sketch a deep burgundy dress.  I liked it because instead of having the lacing down the back, on this dress it was the main feature of the velvet front.
At this exhibition I learned the meaning of the word Haute Couture.  Literally translated it means 'high sewing' or 'needlework' and was established in Paris in 1858.  According to the exhibition booklet it is a world of rules, restrictions and rituals - from the number of garments shown to the number of workers employed.  Haute couture garments are entirely made to order, nearly all by hand and fitted individually to each customer.


Azzedine Alaia began his fashion career in haute couture - briefly at Christian Dior, then at Guy Laroche and then he set up his own fashion house creating only made to order clothes which were very expensive.  Clients were expected to attended at least 3 long fittings where the clothes were literally sewn and put together on the body.  The techniques used included cutting edge technology to mould the fabrics as well as hand sewing techniques dating back to the 19th century.
Timeline:
1935:  Azzedine Alaia is born in Tunis, Tunisia (although some people think he was actually born some time in 1930).
1950s.  He attends the School of Fine Art in Tunis.
1956. Moves to Paris during the Algerian war of Independence.  Lives in a small flat with his lifelong friend Leila Menchari.  He works briefly for Christian Dior under Yves Saint Laurent.
1959 - 1962. Contessa Nicole de Bleviers gives Alaia accommodation in exchange for looking after her children and making her clothes.
1960:  Alaia works in the Maison  (fashion house) of designer Guy Laroche where he remains for 2 seasons.
1964. Moves with Christopher Von Weyhe to 60 Rue de Bellechasse on Paris' Left Bank.  He establishes a studio there eventually employing 18 people.
1979. Alaia designs for shoe designer Charles Jourdan and fashion designer Thierry Mugler's collection.
1983. First official fashion show as part of Paris Fashion week.
1986. Naomi Campbell, who later came to regard Alaia as 'papa' makes her runway debut for Alaia.  She is joined by several other beautiful super models.
1988. Alaia's Spring/Summer 1988 collection is shown in Paris, 2 months later than other designers' collections.  From this date he only showed his clothes when they were ready, not according to the fashion calendar.
2000  The Prada Group buys Maison Alaia allowing it to expand.
2003. Alaia designs a tailored jacket with a crocodile skin down the back and a long-sleeved jersey tube dresses with a zip snaked around the garment.
2007. Maison Alaia buys back control from Prada and joins the Richemont Group.
2013.   Alaia designs costumes for Mozart's operas and takes part in exhibitions in Düsseldorf and Paris.
2017.  Alaia presented his Summer 2018 collection and dies in Paris on 18 November.  Some newspapers said he was 82 years old but others said he was 77 when he died.
Quote:
"My obsession is to make women beautiful.  When you create with that in mind, things can't go out of fashion."
Reflection:
It was fascinating to see such an amazing collection of dresses, designed and made by a true craftsman.  Some looked so soft and sumptuous I just wanted to reach out and touch them, others like the tailored jacket with a back made of real crocodile hide made my skin crawl and I thought were horrid. 
Make up your own mind https://designmuseum.org/exhibitions/azzedine-alaa-the-couturier