For the first time ever, Apple's WWDC was an online only affair – a result of Covid-19. But that wasn't the only reason this WWDC was a big deal. While in years previous Apple has announced major changes to their software, and even given a sneak-peak at their future hardware efforts, the big news of this event was that Apple was going through a fundamental processor change. 
They did however also announce quite modest updates to their other operating systems, from iOS to TVOS. We've done a quick roundup of some of the headline announcements below, but you can also watch the whole conference on YouTube, embedded at the bottom of this article.
iOS 14
The iPhone Home screen is getting the biggest change in years with the introduction of widgets! They will still be available in the Today view, but Apple will now allow you to add them to your Home screen as well, with a widget gallery to easily allow you to add and customise the widgets. They also have an AI powered Smart Stack widget that will surface information it thinks you'll want to see throughout the day. 
The Home screen is also getting an App Library, which automatically collates all your apps into groups and lists. It also allows you to see all of your apps from A-Z, very much like the Android app drawer. You can now also hide some of your Home screen windows to bring the App Library pane closer to the forefront.
Apple have also introduced a new App Clip feature, which is a way of using a small part of an app without having to install the whole app. Examples include parking apps, or a coffee shop's reward scheme. You can trigger these App Clips via NFC or a new QR-code format Apple is launching. App Clips will support Sign in with Apple and Apple Pay, so you don't have to worry about putting all your details in again. 
Siri has been updated to be less intrusive, with a small overlay at the bottom of your screen instead of the full screen page of previous versions. Siri can now also send audio messages. Calls are also becoming less intrusive as well, displaying a dismissable heads-up notification rather than pulling you out of your current app. This will work on all calls, not just phone or FaceTime calls.
Messages are getting improvements too. You can now pin messages to the top of the app, and group chats have inline replies and @mentions. Memoji is also getting some more customisation options. 
Maps has been updated to include cycle paths, which includes elevation data and if you will have to use the stairs, although this is only launching in a few cities at first. It also has human curated guides that automatically update as new places get added. 
CarPlay has new wallpaper options and new app categories. iOS 14 also supports NFC car keys, allowing you to unlock and start your car with NFC. You can share your car key with other iOS users, giving them access to your car. This is launching on the new BMW 5 Series but will come to other cars. 
Finally, a long overdue feature that Apple didn't announce on stage, you can now change your default browser and email app. So long, Mail.
iPadOS 14
Announced last year, iPadOS is essentially a fork of iOS with some specific tablet features, so everything announced above is also applicable for iPadOS. 
Apple has also redesigned some of its apps to now feature a sidebar that lets you navigate the app easier, and some – such as calendar – now have a toolbar at the top of the screen. 
iPadOS has also received much better handwriting support through a new feature called Scribble. You can now use the Apple Pencil to write in any text box and it will convert it into actual text. At launch it will support English as well as Traditional and Simplified Chinese. The Notes app will also allow you to convert your handwritten notes into text, and handwriting is selectable. 
iPadOS has also got a "rebuilt from the ground up" Universal Search. It can launch apps, search through contacts or documents, search within apps that support it, and it can be called up anywhere as a pop-up without blocking apps. 
watchOS 7
Apple Watch is picking up some new features in the seventh iteration of its operating system, including sleep tracking and new fitness features.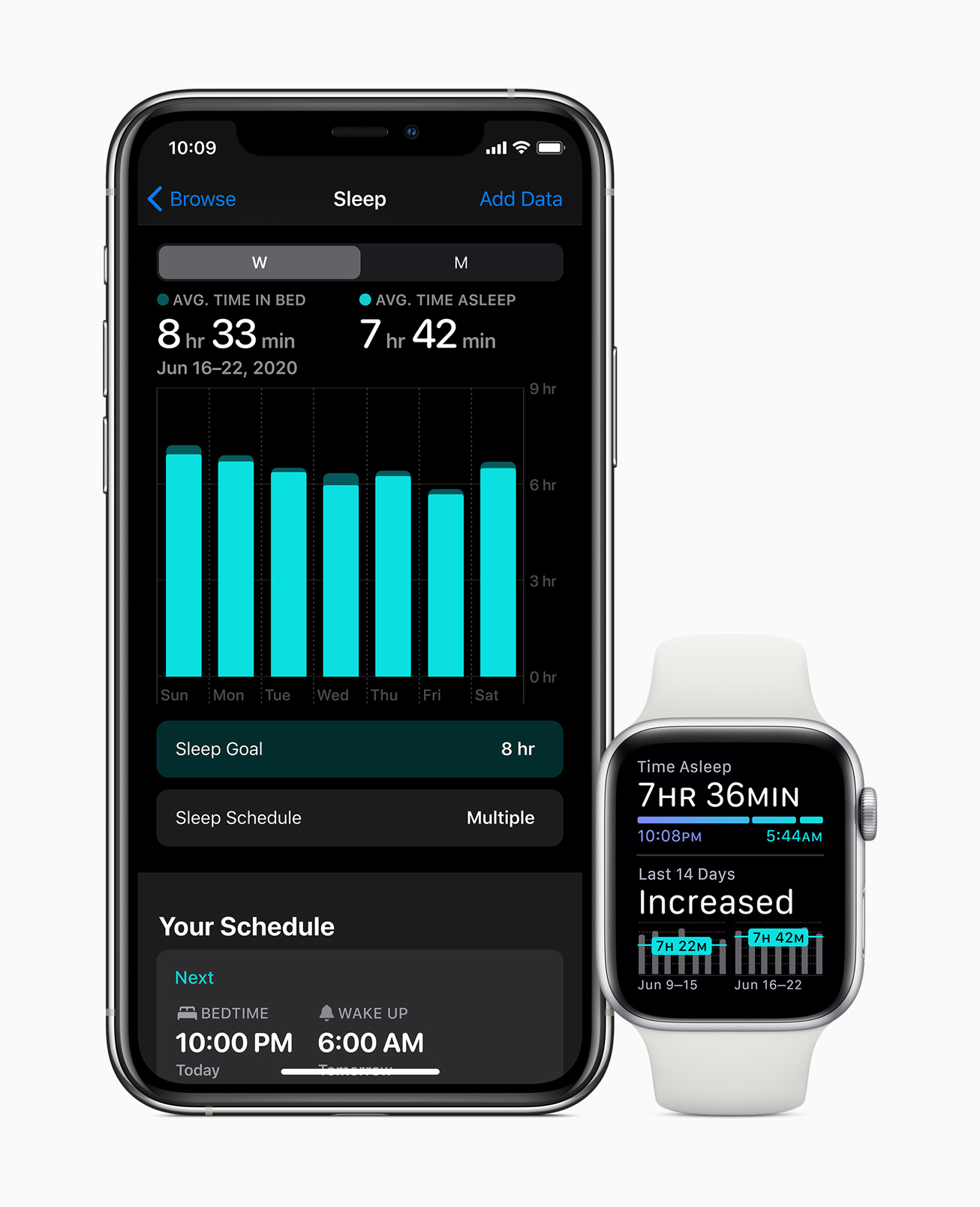 Sleep tracking will monitor your sleep throughout the night, giving you stats about the length and quality of your sleep. It also comes with a Wind Down mode that works with your iPhone to turn on Do Not Disturb and offer shortcuts to home automation and apps like music or Calm.
watchOS 7 is also renaming the Activity app to Fitness, and now has a new tracking mode for dancing. It will also support cycling directions. 
Further changes are coming in the form of watch face complications, as Apple is allowing developers to make better complications and faces can feature more than one complication from an app on a single watch face. You can also share watchfaces with other people, through a feature Apple is calling Face Sharing. You can download watch faces you find on Safari, and it will recommend any apps you don't currently have installed. Users will also be able to share watch faces on social media or through messages. 
watchOS will also be able to detect when you start washing your hands, using both the accelerometer and the sound of soap, and will start a countdown to tell you how long you need to wash your hands. It praises you when you do it for the right amount of time, and chides you if you don't wash for long enough.
tvOS
tvOS is getting better support for Apple's HomeKit accessories, allowing users to directly interact with smart home equipment through a new Control Center. You can also call up footage from your smart security cameras, and it supports facial recognition to tell you who is at the door. The HomePod, which runs on tvOS, will also be able to announce who is at the door if your camera recognises them. It is also gaining support for third-party music services, although which services haven't yet been announced.
Apple TV will also be getting support for the Xbox Elite 2 controller, and the Adaptive Xbox One controller which is great for gamers with disabilities. On the subject of gaming, tvOS will offer multiuser support for gaming, but that is just limited to resuming gaming through Apple Arcade for the time being. 
A grab-bag of other features include audio sharing on Apple TV with AirPods, Picture in Picture support, and the ability to set up Adaptive Lighting, which will change the colour temperature of your smart bulbs throughout the day. You will also be able to stream 4K video from the photos app on iOS devices. 
macOS 11: Big Sur
So long, Mac OS X, you will be missed. Apple announced that MacOS is getting a radical redesign and has finally been bumped for Mac OS X (the X meant 10) to 11, the first time time we've seen a jump from 10.X  in nearly 20 years. 
The redesign takes heavy inspiration from iOS, including changes to make UI elements translucent and more rounded, with sliders and toggles having a particularly 'touchable' feel – even though Apple have thus far resisted calls to make a touchscreen Mac. It also has a new Control Centre which feels ripped directly from iOS, allowing you to control DND, brightness and volume among other things. Notification Centre has also been updated to make use of the new widgets showcased in iOS, and now groups notifications together and sorts by most recent. 
Apple apps have been redesigned to match this new design language, and Messages and Maps have the new features announced on iOS, in part because both are now Catalyst apps, which means they share a common codebase with iOS apps. App icons have also been changed to be more similar to those on iOS, to bring consistency across the Apple ecosystem. 
Apps generally are also becoming more privacy focused, with the app store now displaying what data apps are collecting about you, similar to that of a nutrition label you'd find on food.  
Safari is also getting another huge update. Apple confidently declared that it was already 50% faster than Chrome, and is easier on battery life – something hard to dispute. It will now support browser extensions from other browsers, but with a more privacy focused approach. You can control what sites extension work on, and you have to specifically grant the extension permission to run, and can have that permission revoked after a day. 
Maintaining that privacy focus, which Apple views as "a fundamental human right", Safari also has a Privacy Report that will detail cross-site trackers it has blocked over the last 30 days, and will also monitor your passwords and alert you if they have been breached. 
Tab management is also improving, with proper favicon support, and tabs that get smaller as you open more instead of disappearing off screen. Safari also has in-built automatic translation for webpages. You will also be able to customise your start page with a background image, and have it automatically pull through your Reading List and iCloud Tabs. 
Apple will transition Macs from Intel to its own processors 
The biggest announcement by far though was that Apple will be moving the Mac from Intel based processors to their own silicone. Described as "A truly historic day" for the MAc, and a "huge leap forward", this move from Intel will be the third architecture transition Apple has undergone – the last being the move from PowerPC to Intel back in 2005. 
Apple already makes their own processors for iPhone and iPad, which have seen a 100x improvement in CPU performance since they started, and 1000x GPU performance. During the presentation they also commented that they had shipped 2bn SoCs, suggesting they have no concerns around production.  They haven't named the chip yet, but they did outline some of the benefits. 
The primary benefit – to Apple – is that they control the product pipeline, so aren't constrained by what Intel is doing. They are also free to design chips specifically to their own requirements, and can perfectly optimise their software to perform well on the chips.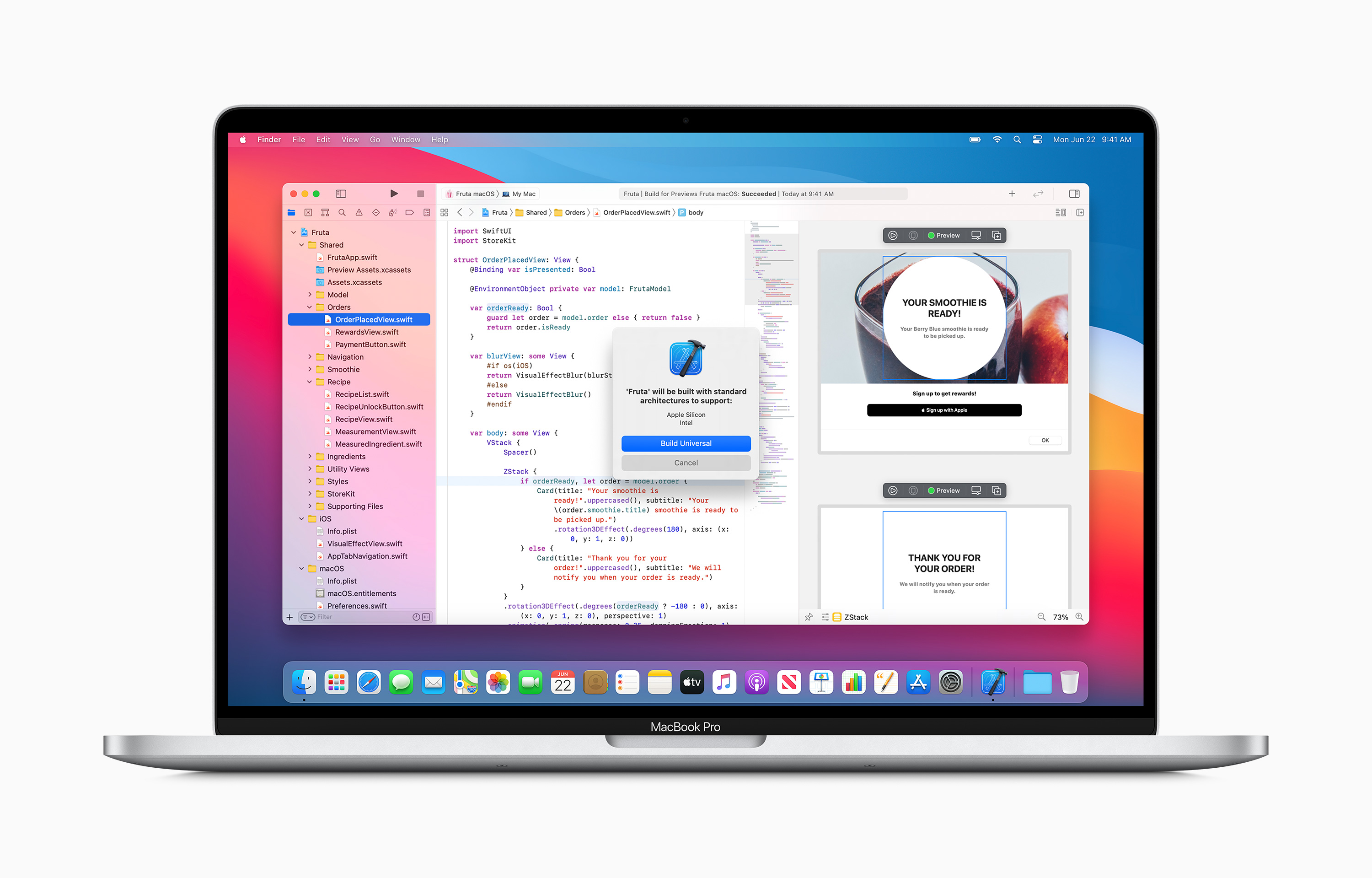 It also will mean less work for developers of iOS apps, as Macs with the new ARM based processors will be able to run iOS and iPad apps natively. If you were a developer of an Intel app, you will be able to recode your app using XCode, and Craig Federighi says it should be up and running in a few days. Those who purchase an ARM based Mac early on will still be able to use their Intel apps though, as Big Sur has a compatibility layer called Rosetta 2, which allows Intel based apps to run on the new hardware. They demonstrated Maya running without any performance hits, and Shadow of the Tomb Raider was fully playable at 1080p without any modifications to the code. 
It seems that big companies have already started the work of getting their apps ready for the new generation of Macs. Microsoft has been working on an update for Office, and Word and Excel are already running natively on the new hardware. PowerPoint is using Apple's Metal graphic processing for rendering, allowing seamless transitions. Adobe has also been working on getting Creative Cloud up and running. Apple showcased Lightroom  and Photoshop running on the new Macs, manipulating a 5GB file with ease. 
The transition is expected to take two years, and the first ARM based Mac is coming out later this year. Tim Cook did say that they still have Intel based Macs in the pipeline too.
---
Rewatch the whole conference
Apple streamed the whole conference on YouTube, and you can rewatch it below. 
Header Image Credit: All images courtesy of Apple