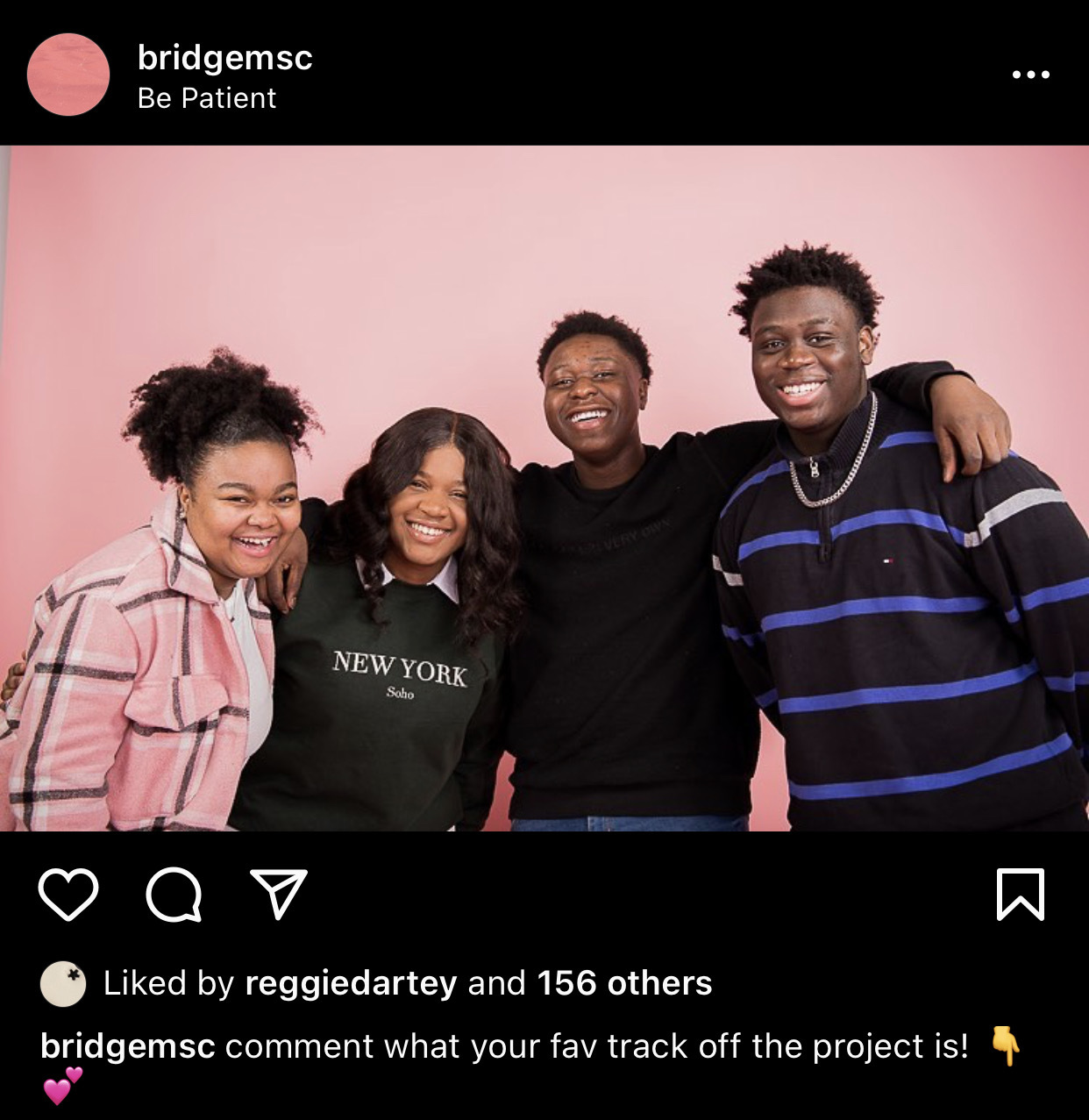 Canadian born creative Reggie Dartey is capturing the essence of God in a new way, bringing his eclectic sound, vibrant youth collective and adroit creativity to produce Christian music that defies the conventional norm. With Pour it (Remix) now surpassing 200,000 streams, there are high expectations for their recent project 'be patient with us' released earlier this year. 
Bridge Music, a name that is prophetic in nature, aims to bridge the void between younger generations and the Christian faith and has found success doing this through music. With no distinctive sound, they fuse genres spanning across Pop, RnB, Hip-Hop and afro-fusion to meet the needs of their demographic.
Reggie's ethos stands on "Whoever makes music, makes it out of their core values and how they live their lives. I want to make Christian music that caters to your everyday Christian life, not corny, not fake but cool'. 
Now on their fourth album, titled 'be patient with us' it's clear they aim to build on their momentum, emphasising that to be different is an advantage, and you don't have to listen, create or settle for religion when relationships are God's ultimate desire.  
---
Behind the Artist presents: Reggie Dartey
Reggie represents a new generation, one that wants to create art that is authentic and transparent. He does this by listening to inspirations such as Brent Faiyaz and Omar Apollo instead of looking towards the traditional gospel sound. 
As well as choosing to write through a realistic lens "because with many Christian artists they only look through one lens - that everything is going to be alright," he asks "what if it isn't, what do you do then?" 
This is especially apparent in songs like "Eulogy" and "Fake Smiles", which are written like scripts, outlining candid thoughts shared amongst many young believers. 
"Just do it!.. literally take that step of faith because you will never know the impact you may have on somebody."
"Never look at numbers, but look at the impact you could have. You could help them in their current situation, encourage them to create or inspire them."
"You must master your craft first. You need to be amazing at what you do. So focus on what you are good at and go for it."
---
What's Next
Bridge Music aims to be 'All Things To All People' representing the youth of today with Christ at the centre. We should expect an exciting new release in the coming months and a new behind the scenes breakdown on their Instagram. Christian music has come a very long way and Bridge Music is becoming the trailblazers for music, culture and faith. So, Christian or not, enjoy their sound and give their refreshing approach to artistry a try. 
---
Follow Bridge Music on Instagram 
Listen to their latest release on Spotify
Follow Reggie Dartey on Instagram