Could you first introduce yourself to the reader?
Hola! My name is Alishia, Lish for short. I am a curative creator constantly reviewing life's treasures through various creative sounds. What this means is that I use creativity as a form of healing for both me and those I fabricate art for.
Currently, I write, style, paint, draw portraits, sing, and am a poet. People call me all-purpose seasoning because I will literally do anything creative with an aligned purpose. I am a lover of food and the exploration of cultures.
What does your job involve? Give us the typical outline of a day?
My job involves many functions, all of which I currently conduct myself. From customer service, to design, to promotion and advertisement, right down to postage and packaging and shipping.
A typical day includes:
Discussing pricing and design with the client

Creating the design

Making amendments suggested by the client before collecting the deposit

Prepping footwear, tools and equipment

Setting up videography equipment for social media content

Completing the item

Searching for artistic backdrops to take photos of the final product

Boxing off to be shipped to the client once payment is received

Editing and posting all content
What's great about your job?
The freedom to visit art with no boundaries, just standards and personal morals. I am a Christian and so there are certain images and dialects I will not paint. With this job, I can go as far as I like with my art at my own pace as well as ensure I continue in what I believe.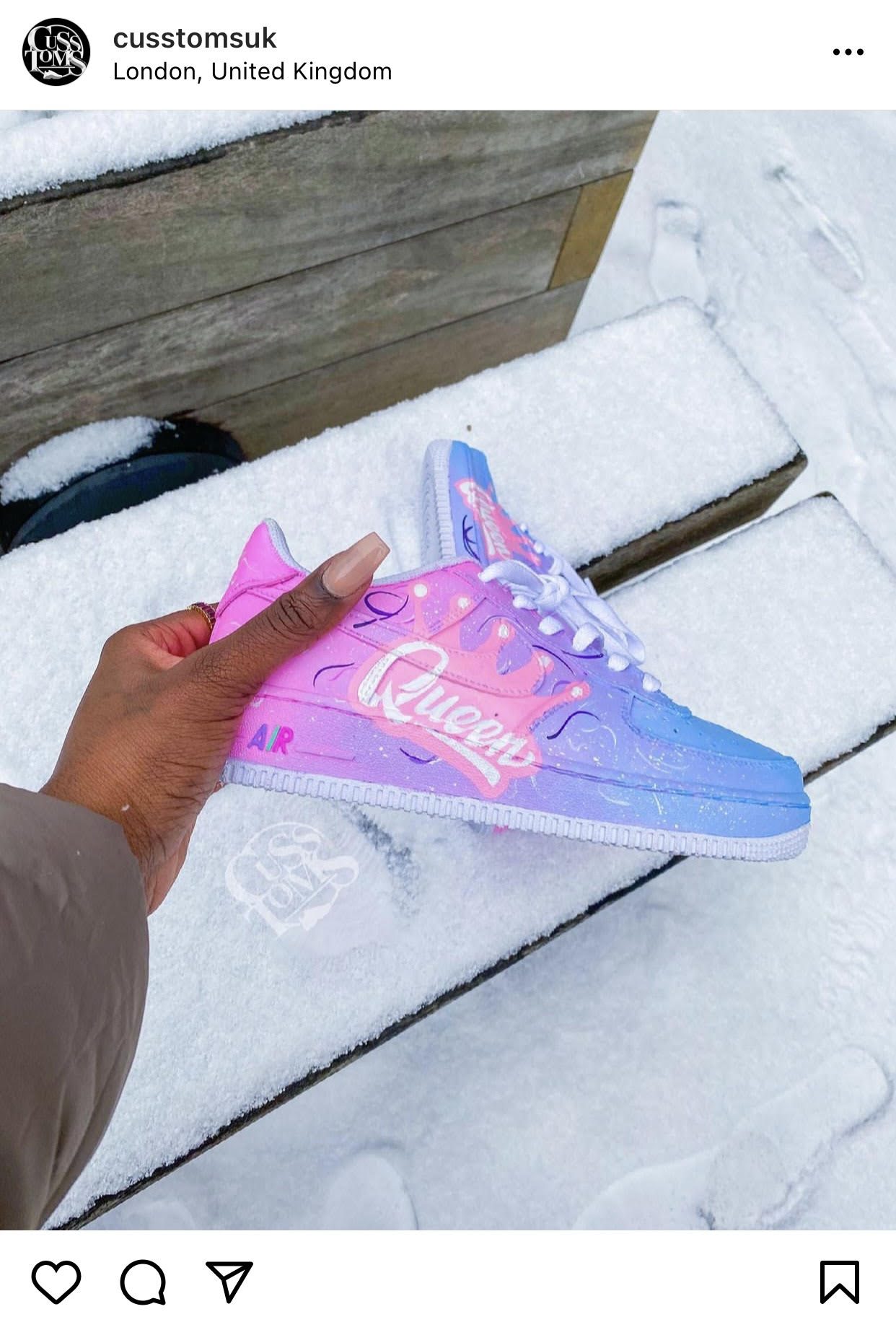 What are the bits you don't like or find challenging?
What I do not like is disrespectful clients. I find the challenge it brings is in trying to remain professional whilst also ensuring situations are dealt with.
What are the highlights of your career to date?
The highlights are situated in my ability to grow. I have moved on to new materials, more sustainable processes, matured in my designs and even gone on from doing one pair in a week to doing four in a day.
What was your career path into this job?  Have you also worked outside the arts?
There was no career path. As previously mentioned, I am creative. I styled a friend for his video shoot and suggested he have something personal to stand out. Some paints were purchased, and it went on from there.
Can you describe your biggest challenge so far in your career? How did you overcome it?
My greatest challenge was letting go of the business for a while. Building a business solo and then taking a break can be difficult because when you stop everything stops. However, I had to complete my final year of university which was already a challenge for me. I had to trust that the break would not hurt the business and even if it did, I would be able to bring it to life again.
What is it like to be a Black woman in your industry?
Being both a woman and black comes with separate challenges.
Firstly, I am seen as and dealt with as black before anything else. Fortunately for me, I have yet to be exposed to injustice. Being my own boss has meant I could pretty much shield myself from it. People automatically assume I am a man because I customise sneakers and that goes for most female customizers.
How does lack of representation play a part in your journey? What do you think needs to be done to change this?
Lack of representation only encourages me to do more. I don't watch what others are doing so not seeing representation is just encouragement for me to represent. Where I see a problem, fault, or gap I become the solution.
Have you noticed any changes in the industry? If so, what?
Not since I began customising sneakers no. But the longer I'm here the more I see strong female artists.
You've been granted the ability to send a message to 16-year-old you. What do you say?
Make no mistake, you will make mistakes. Some will become your greatest achievements; some will make you stumble, and some will even make you fall. However, your achievements will include stumbles, your stumbles give you an opportunity to stop you from falling and your falls remind you - you can get back up.
Finally, all are temporary. Keep going, don't give up and always get back up.
Do you have any advice for young people interested in doing your kind of job?
Firstly, do your research. Is this something you honestly want to do? It takes a lot of money and time to be a sneaker customizer and if you don't want to run it yourself then search for companies providing employment. Secondly, please contact me as I will be doing some workshops and providing employment for pupils that stand out.
---
For more information about the workshops, Alishia offers email at [email protected]
CussTOMs Trainer Business @cusstomsuk 
Or follow her creative page at  @thecurvedchristian