Hi Quilla! Please could you first introduce yourself to the reader?
Hello, my name is Quilla Constance (abbreviated to QC) and I'm an interdisciplinary artist working across the media of paintings, videos, costumes, live performances, music and installations. I also stage my work across diverse contexts such as art galleries, theatres, clubs, lecture halls, social media, and the street.
My birth name is Jennifer Allen, whilst QC is a persona I've cultivated and deployed since 2009. It's difficult to know where QC ends and Jennifer Allen begins (and vice versa). People sometimes ask whether they should refer to me as Jennifer or Quilla, and I quite like that confusion - often I tell them to decide. Therefore, people are actively forced to think about the boundaries and categories they set in their minds when addressing people.
Please describe your work 'Teasing out Contingencies' in 3 words. 
Inclusive. Progressive. Fun.
Through 'Teasing out Contingencies', you pose the question: What is British society now and where are we going? How would you answer this question? 
'Teasing out Contingencies' (TOC) is a way of asking/speculating about a wide variety of potential answers. Through creating opportunities for active engagement with and between diverse people, I also seek to encourage others to ask and consider this question. People get the chance to explore and enact different possibilities during spontaneous creative TOC workshops at Tate, and also as part of reflective conversations I hope to stimulate afterwards. 
Further to this, the next phase of TOC will include open discussions and symposia opportunities, inviting people to share and discuss their experiences of the project, and consider ways it might have impacted their understandings of other people and cultures.
During TOC workshops so far, I observed and photographed over 800 visitors from the UK and overseas, working together (wearing costumes, interacting with eclectic props from Bisto Gravy boxes to Cassava's and Pak Choi - and responding to genre-busting music mashups). My costumes combine a mix of freestyle disco, glam, carnival, and punk aesthetics, alongside defunct QR codes, spliced with branding logos. 
I remember finishing the costumes just before the first workshop and wondering if they're too outrageous for most people to wear - and yet when the first few visitors entered the room and climbed into costumes, suddenly everyone wanted to get involved!
Many participants who were working together at Tate were complete strangers, yet their performances revealed new possibilities for connections between people. People spontaneously created new worlds where oppressive negative stereotypes and injurious learned narratives became completely irrelevant. Many of the performances developed so quickly and generated such a frenzy that people were denied opportunities to revert back to tired ways of thinking.
I'm now creating a vast oil painting in response to the workshops, and inspired by the amusing, experimental and refreshing performances I witnessed and photographed at TOC.
Quilla Constance 'Teasing out Contingencies: Painting/Costumes/Performance in Progress', 2020.  Photograph by Quilla Constance.
Talk us through the creative process you undertook in order to produce your painting. For example, how did your workshops impact the final piece?
I've so far hosted four TOC Open Studios across as many days at Tate. With help from producers from Bedford Creative Arts and Tate Exchange, I hung approximately 30 of my costumes from clothes rails and various fixtures in the Southwark Room. Alongside this, I played original music mashups (i.e. folk, pop, metal, reggae samba, rock and electronica), created in collaboration with my producer, Rafflesian. I also played an excerpt from composer Cheryl-Frances Hoad's contemporary modern cello piece 'Excelsus' – I was drawn to this because it sounds spontaneous, yet it's highly cultivated. 
During the workshops I sought to create an environment where categories and boundaries collided, to interrupt conventional readings, reveal possibilities for new modes of being, and the performative nature of identity and power. I think this also exposes the great potential for injurious systems/narratives to change for the better.
The TOC workshops appeared to act as a catalyst for playful, experimental responses from participants who successfully created surprising new narratives through performance – narratives which negated stereotypes, such as a strong rugby player, squeezed into an opulent lycra costume, nursing a stalk of brussel sprouts, a Chinese family posing with boxes of PAXO and jars of marmite, and a group of students from Africa and Spain dancing to English folk music.  
Why did you decide to make this particular installation interactive for audiences?
I think working directly with diverse people is an integral aspect of this project. Visitors at Tate Exchange became directly involved in the process of creating performances and scenes for the painting – this was vital, for reasons mentioned above. I'm now looking forward to resuming TOC at Tate, once Covid-19 social distancing restrictions are lifted – it could take some time, but I remain optimistic. I will likely need to adapt the project to some extent, employing some alternative methods for interacting with participants.
Tell us more about your plans to activate your painting as a backdrop for further workshops and performances at Tate.
I'm also interested by the idea of subverting readings of paintings and challenging potential limitations/categorisations which are in place within the 'high' art world. For example, hanging an oil painting as a stage set and inviting people to perform in response, challenges boundaries and rules of etiquette established by art museums. I think it also sets up an oscillation between 'high' and 'low' art and functions as a catalyst to create further mutations of the artwork – I like the idea that this piece could be never-ending, preserved in a constant state of wonder and creation. 
This painting seeks to explore the undoing, interrupting and subverting of societal issues such as racism, sexism, ageism and classism. How did you begin to approach such topics? 
Well, indeed, they are extremely complex issues. The intersections between these groups/categories urge us to ask yet more questions about inequalities which arise when they combine and overlap. For example, logically speaking, a black disabled transgender lesbian might navigate different obstacles to those of a black, straight cis-gender female. 
However, I'm interested by the idea that these complexities can be harnessed/activated to liberating effect. Subjects who defy categorisation might be less easily controlled within hegemonic systems of power, and those identities which do not fit, serve to highlight the absurdity of categorisation and resultant social control in the first place.
I think TOC workshops offered people a level playing field where they didn't feel restricted and had equal access to interactions and discussions. People became immersed in TOC activities and forgot to pass judgement on others, and themselves!
For young people who wish to combat societal issues through art, what tips would you give them?
Art must be inclusive. 
In order to combat societal issues through art, all galleries and artists must produce exhibitions which are accessible to diverse groups of people. 
Additional ways of engaging visitors would be through directly including them as an active part of the art experience, or the art-making process. I've been operating in the art world since 2001, yet there are still a number of galleries – often blue-chip commercial spaces - which I myself feel unduly intimidated by. If I feel this way, I can't imagine how those outside of the art world might navigate this system. 
My advice to young people would be to avoid replicating this model, expand mailing lists, make your work accessible to larger audiences by offering different ways of understanding it - and ensure working class and ethnic minorities feel as welcome as everyone else in gallery spaces. In turn, this will open and expand dialogues. I also think female artists without representation should be especially bold and believe in their practices. There are many ways to sustain an art career through public funding, and it's vital that alternative and marginalised voices continue to surface – helping to navigate societal issues in creative ways.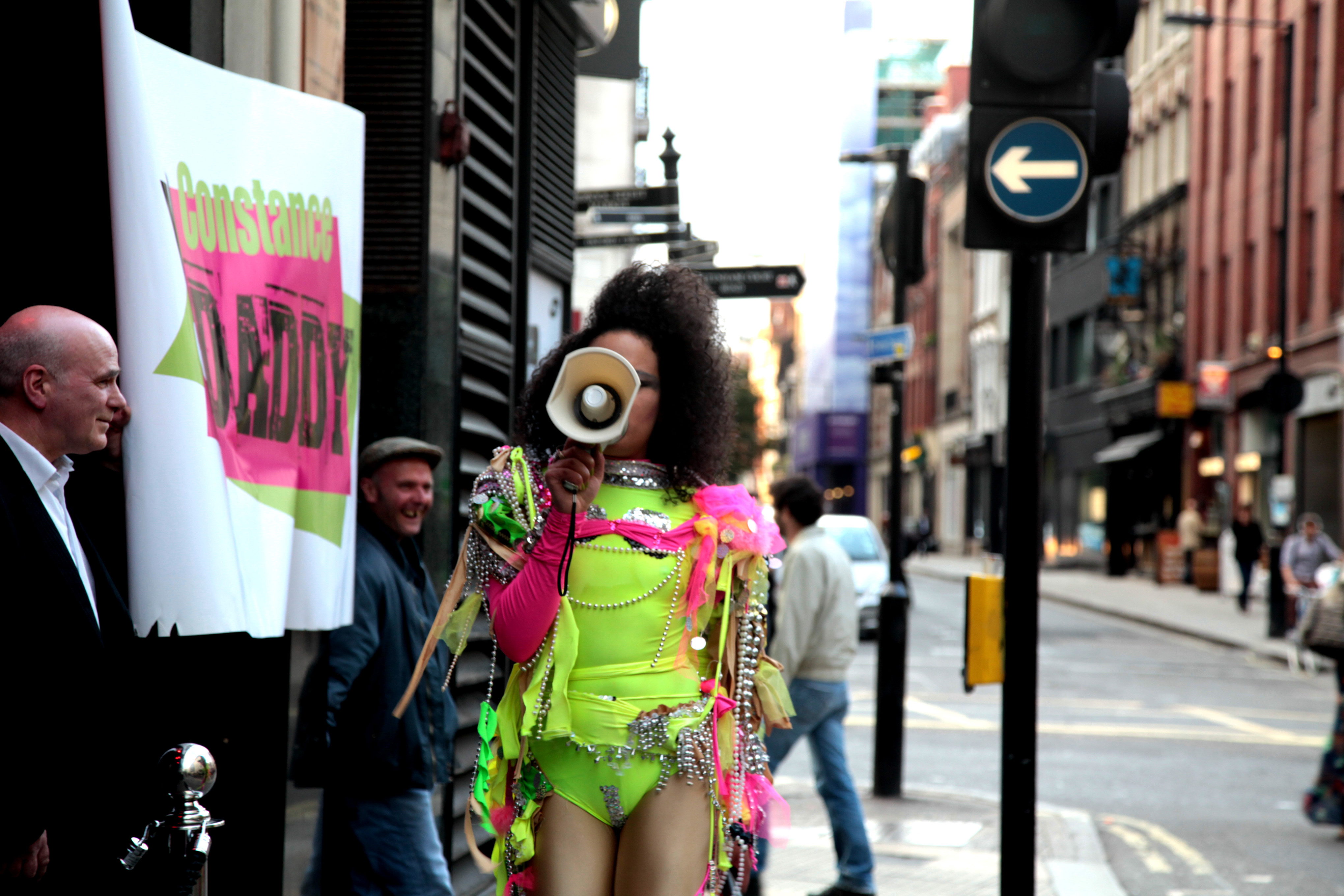 Quilla Constance Guerrilla Punk Protest Performance, Punk Soho, 2011. Photographed by Omer Kula.
Tell us more about the different layers of society you have personally experienced and how this has impacted both your art and career. 
As well as being biracial of (black) Jamaican and (white) British heritage, I've also learned to navigate the English class system – i.e. from my lower working-class childhood in Birmingham, through to the privileged environment I encountered as a student at The Ruskin, University of Oxford. As a result, my inscription within any specific category is ultimately non-specific, which affords me the licence and the daring to cross between these established structures and narratives, to interrupt and re-write our readings of them in liberating new registers. This knowledge is integral to the execution and development of my art practice and affords me an unorthodox sense of belonging. 
However, it should be noted that I didn't experience any discrimination at Oxford University. Rather, it afforded a nurturing environment for developing free thought and creativity. Many students from different faculties took a keen interest in the art department, and vice versa – it served as a great melting pot! 
Has your time in lockdown due to Covid-19 brought about any new creative projects? How have you stayed artistically motivated during this time?
At first Covid-19 felt all-consuming, and terrifying - like something from an Orwellian dystopia! However I've since taken comfort in creating art during lockdown.
I've also enjoyed catching up with friends and colleagues on Skype – we exchange ideas and discuss our projects. On that front, it's been strangely social and given me new opportunities to open dialogues. Speaking with people who are so passionate about art and equality certainly helps with motivation.  
Have any particular artists inspired or influenced your artistic work?
The playful, activist photographs of Zanele Muholi - the urgent and compelling installations of Kara Walker - the bravado and biting satire within Paul McCarthy's oeuvre – and the frank, unflinching vocal observations of the Guerrilla Girls.
Did you face any major challenges during the project?
Yes – first it was necessary to re-write my ACE funding bid to accommodate curatorial changes to TOC (though, as an independent artist/curator it's part of my job to troubleshoot and re-develop projects when setbacks arise) 
Following this, my mother tragically passed away in October 2019 after losing her battle with secondary breast cancer. Consequently, I postponed TOC for 3 months. I've since dedicated the project to my late mother – I know she would have loved it, and keeping this in mind helps me to deliver the Open Studios with extra determination!
Do you have any advice for young people interested in doing your kind of job?
Have as much fun as possible with your art - but be prepared to work really hard. So far, my career progression has been akin to riding a rollercoaster, and it often takes many years to establish yourself. You must be persistent, find ways to sustain your practice through public funding, patrons, part-time teaching opportunities or other part-time work - and you must develop a thick skin, keeping criticism and praise at arm's length. You must believe in what you're doing, but be prepared to adapt your work and be able to step back and act as a critic for your own practice… I think that's the most important requirement for being an artist actually - being self-critical in a constructive way. 
How can people find out more about yourself and your artwork?
Follow this link to access my web page for 'Teasing out Contingencies' – it includes a critical text on my work, by Dr Alexandra Kokoli for Van Abbemuseum: Black Artists & Modernism: 
Also, here's a link to the catalogue for my previous exhibition at MOCA London.
Header Image Credit: Quilla Constance 'Teasing out Contingencies: Painting/Costumes/Performance in Progress', 2020. Photograph by Quilla Constance.