Could you first introduce yourself to the reader?
Hello, I'm Michael Wallner, a London-based artist specialising in aluminium prints and light installations.  I create my work from my original photographs, digitally colour them by hand and then on unusual materials including aluminium, copper, reclaimed wood, even 1930's windows. I also work with neon and L.E.D lights. 
What happens at your organisation?
I am part of Urban Soup, a collective of artists whose art focuses on the beauty of the city. We curate this annual exhibition at gallery@oxo. 2019 will be our 4th edition. 14,000 people have visited us during our 4 shows so far. 
Tell us about your personal relationship with the Thames River. 
I love the Thames: its history, its views, even its shape as it carves its way through London.  It is the lifeblood of the city. Wherever I am in London I always seem to gravitate towards the water. It is a calming influence in the chaotic world around us.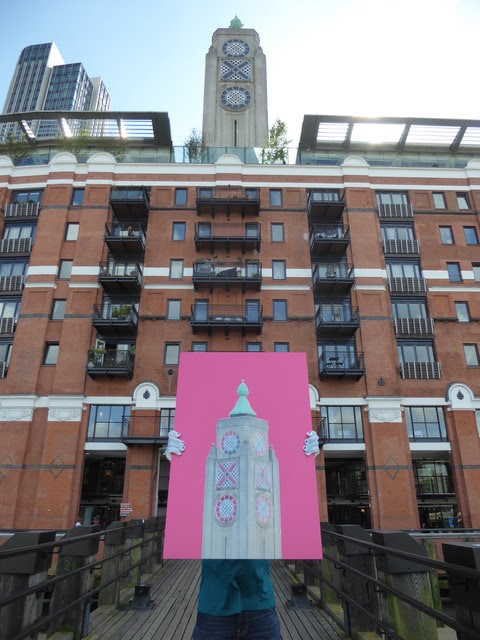 What's your project for Totally Thames?
Our project is 'A River Runs Through It', a London-inspired art exhibition at gallery@oxo, Oxo Tower Wharf. We're open 11am – 8 pm from Wednesday September 4th until Sunday 8th. 
The exhibition, an annual event in the London art calendar is a celebration of the city - the wonder of its vibrant personality and ever-changing landscape. 
A River Runs Through It showcases London through the eyes of 5 very different artists: LoveJordan, Emma Reynolds, Susan Bunn, Nessie Ramm, and myself. Visitors can expect to see art made from pieces of wood found along the Thames shoreline, stunning screenprints and aluminium pieces inspired by a recent trip along the river at 4 am, some breathtaking oil paintings and even the Oxo Tower made from Oxo cubes.   
It is a show for everyone: art lovers, lovers of beautiful things, and those who love greatest city in the world. 
What particularly inspired your project for this year's festival?
London. London. And London.  What more inspiration do you need for an art exhibition that a city oozing history, culture, with stunning architecture, old and new, all along a bustling river. 
Summarise your artistic work this year in 5 words. 
Aluminium. Light. London. Manhattan. Busy. 
What do you hope the impact of this project will be?
In the current negative climate we want to show the beauty in the world around us. We hope to show the different sides to London – the peaceful calm as well as the bustling metropolis. 
Do you have any advice for young people interested in getting involved in this art form?
Get out there! Go to as many gallery openings as you can. Talk to people in the art world. Introduce yourself. Don't be in a hurry, take time to find your distinctive style. 
Where can people find out more about your organisation and your event?
You can follow the exhibition on Instagram @ariverrunsthroughit2019. And you can keep an eye on what I'm up to on Instagram @michaelwallner_art
Header Image Credit: Provided