Could you first introduce yourself to the reader?
My name is Jerome Davenport, I go by the name of Ketones6000 and my company is Blankwalls.com.au. I was born in a small western Australian Wheatbelt town called Wickepin.
I studied live theatre production at the Western Australian Performing Arts Academy which gave me an opportunity to paint some large scale backdrops for theatre and ballet.
I now spend my time between Australia and Europe painting large scale artworks  for various community projects or festivals.
How did you transition from theatre production in graffiti?
The transition from graffiti to theatre production was quite natural and they both gave each other an opportunity to grow and develop. I always had a background in graffiti and the opportunities theatre production gave in large scale painting, airbrushing and set dressing really impacted on my style which you see today.
Have you always been interested in art?
My interest in art only came at a later stage in life. I didn't paint much in my school years and I had other career plans. My scenic art teacher really opened my eyes to the art world – especially murals, which motivated me to start my public art career.
How can art be used for activism?
I feel that art is activism, and it has been used for thousands of years as a form of communication.
We have an opportunity to create something in a public atmosphere that will be viewed by the masses. We are a voice, and artists have always stood for what they believe in.
One of your recent works was a mural to Sylvia Pankhurst. Can you tell us about that project, and how you got involved?
The most recent project was a homage to Sylvia Pankhurst, the leader of the East London suffragettes and an outspoken woman who fought for women's rights in the early 1900's.
We had been in partnership to paint several bars and this one came up in Bow. The bars geographical history spoke for itself, with Pankhursts former home/headquarters for the suffragettes being in the now empty block next to the pub.
I began researching and conversing with a number of historians of the area and I became heavily involved in the history. From there we eventually began painting - after battling numerous snow falls!
You're currently working on two pieces in Perth, one of which is with local youth program close to where you grew up. Why did you want to do this project?
I'm currently working with youth in the city of Rockingham. I was contacted by the local PCYC (Police-Citizens Youth Club) to facilitate a holiday program revolving around the repaint of a large scale mural and aerosol workshop.
I've always been very passionate about youth mentoring and programs to assist in the creative development for children. Children are our future and it is important they are encouraged to follow their dreams and pursue their passions. If art can assist in that then I'll happily be involved.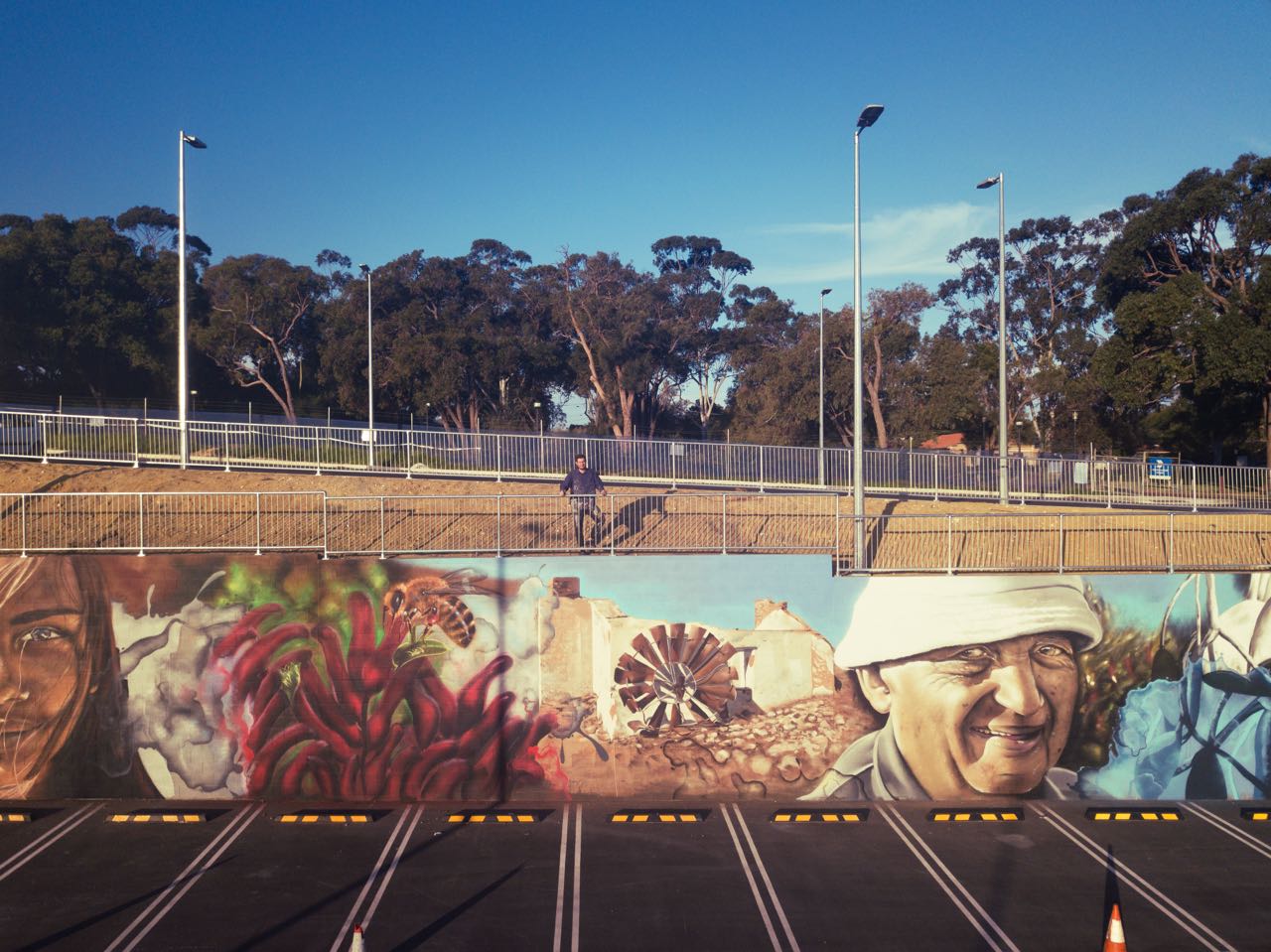 What are the steps you take when creating your work?
There is quite a lengthy process behind the creation of one of my pieces.
We begin by securing a wall or site for a proposed artwork. Once a wall is secured I go into a research and design phase which can take up to a couple of months. I like to focus on people who have made a difference in their community and are the unsung heroes. I personally love digging through history and finding out about people's stories.
Once a concept is developed and subjects for the piece are found then I will photograph the different people or parts of the concept. After I have all of the history and images I begin to design the piece which can take a few weeks, I generally work on digital designs which can help speed up the process.
When the design is completed we are then ready to begin painting. I begin with a base coat of exterior paint using different applications such as rollers, weed sprayers and brushes.
Following the base coating, I superimpose my design over the wall to get a rough outlay of how it will look on the wall and then we get into the aerosol work.
The spray painting can take anywhere from a few days to a few weeks, but its reasonably fast as it has a quick drying time.
What are your thoughts on the criminalisation of graffiti?
I asked my mother this question and she said taggers who damage peoples property deserve a belting haha! 
I personally think everyone needs a creative outlet and I didn't get to where I am today without graffiti. I think if they want to criminalise graffiti then give allocated spaces to the community to paint without the threat of prosecution. They build skateparks to stop skaters from riding on public property so why cant they build designated art parks to give youth a creative outlet.
Street art in general often features a heavily politicised agenda. Do you ever face any backlash against your work given the connotations of both the medium and featured subject matter?
I personally have never faced any personal backlash with my work. I don't usually have  a political agenda with my works. I do however get pigeonholed into the graffiti or vandalism category but I'm ok with that as I value each of them.
What has been your favourite project to work on?
My favourite project to date would have to be the Pankhurst project or my most recent piece in Western Australia as they have both given me the opportunity to really connect with the community and history of each piece.
Do you have any inspirations, either in or outside of the creative scene?
I have many inspirations, including but not limited to: graffiti, architectural design, photographers, and sculptors and fine artist. But more importantly, I get inspiration from my family and my fiancée Olivia.
What advice would you give to someone wanting to follow in your footsteps?
I always looked for advice when I started but I couldn't find much, this industry or pathway is pretty individual and difficult but if anyone wants advice come and see me as I've got plenty. 
To keep it simple, work hard, if you do a job do it well and do it right the first time, chase the dream, be who you want to be and more importantly be yourself.
If you could send a message to 16-year old Jerome, what would you say?
Paint more! Be creative, and explore everything.
Where can people find out more about your work?
You can keep up to date with my life On few outlets:
Instagram - @ketones6000
Facebook - @ketones6000
Twitter - @Ketones6000
Email - [email protected]
We would love some more big walls so get in touch.
For more information about creative jobs, visit our career section.