Could you tell us a bit about your background?
When I was sixteen, I won a national poster design competition to visit the USA. I joined a youth project working alongside Native Americans to highlight social injustice. We were invited to a pow wow – a sacred gathering of indigenous North American people – and gave a presentation to policy makers in the Capitol. It was the first time I'd travelled abroad and the experience changed my perspective on life's possibilities. A few years later, I moved to Nottingham to study theatre design, then English literature. As the first person in my immediate family to attend university, I didn't really know what to expect. My favourite module turned out to be creative writing, and I gained some useful communication skills as a sub-editor on the student newspaper and during a short internship at Ministry in London.
What have your various poetry-based roles involved? What was your career path into them?
I've worked as a resident poet or commissioned writer with various organisations including Nottingham UNESCO City of Literature (NUCoL), Writing East Midlands, and the Nottingham and Yorkshire Wildlife Trusts. The roles included delivering community writing workshops, organising events, giving readings, and writing new poems. I actually had quite a winding path into my arts career. After university, I went travelling, then worked in marketing and sales. Driving long distances for work, I listened to drama and short stories on Radio 4, which inspired me to start writing again. Then my father died suddenly. It was a huge shock and caused me to re-evaluate how I was living and what I wanted from life. I decided to join the Creative Writing MA course at Nottingham Trent University (NTU). I was self-funded, so I worked two jobs – as a copywriter and in a pub – attending classes in the evening. The course helped me develop my writing skills and network in the creative community. After graduating, I gained my first freelance contract as Nottingham Writers' Studio's Project Coordinator, developing a hub for local writers.
What are the highlights of your career to date?
In 2011, I joined Junction Arts, a rural participatory arts charity working with ex-coal pit communities in Derbyshire. Participatory arts directly engages community members and artists in co-production of creative work, with the aim of improving quality of life and helping develop communities. At last I found the right fit, not only for my skills but also in terms of my values and motivations. Crucially, there was space to grow and develop within a positive and nurturing culture. I was responsible for planning, delivering, and evaluating multiple projects, working with community members, including the annual Bolsover Lantern Parade and a new sculpture trail. Our team also attended ICAF – an international participatory arts conference – in Rotterdam, to share ideas and expertise. Other highlights include my time as founding poetry editor at LeftLion Magazine promoting local writers and running live poetry events (where I met my partner); being mentored through Renaissance One's performance poetry programme and winning the Nottingham Poetry Society Slam; and publishing my debut pamphlet, Lost Lands (Crystal Clear, 2012). Winning the Buxton Poetry Prize in 2015 with 'Windfalls' helped me gain the confidence to apply for funding to do a practice-led PhD in environmental poetry.
What's been the biggest challenge so far in your career? How did you overcome it?
Writing my PhD thesis was a huge mental and physical challenge. Returning to academia was demanding, but fortunately I was awarded Arts and Humanities Research Council (AHRC) funding through the Midlands3Cities Doctoral Training Partnership (now M4C) to cover fees and living costs for the first three years. I made the most of any relevant networking, training and development opportunities on offer, including a residential writing week hosted by the Royal Literary Fund, and my supervisors and friends were also really supportive. The final (unfunded) year was difficult, as we were in lockdown, so there was added pressure to find work while I was trying to finish my PhD, but fortunately I was able to work with Junction Arts again and teach on the WRAP (Writing, Reading and Pleasure) programme at NTU, which felt positive. I passed my Viva exam earlier this year, and I'm looking forward to graduating in December.
What does your current job involve, tell us what a typical day looks like?
Like many freelancers, I mosaic different contracts together, often on a short or fixed-term basis. Over the past six months, with arts charity Pedestrian, I've worked with young unaccompanied asylum seekers, community food bank users, and LGBTQ+ young people. Listening to participants discuss their experiences emphasised the impacts of COVID-19 on young people's mental health and wellbeing, and how participatory arts projects can help by bringing people together in shared and positive activities. There isn't really a typical day working freelance. I might travel by train to Leicester and spend the morning working on project admin in our friendly and lively office, before packing up art materials and snacks to take to a session with young care leavers who are creating a graffiti wall in their drop-in centre. Another day, you could spot me walking to Nottingham Trent International College (NTIC), where I teach international students. I enjoy the variety of working with different organisations, and the flexibility to manage my own workload, but I have to be organised enough to shift between roles, keep on top of my admin, and also seek new contracts.
What inspired you to start writing poetry about climate issues?
Reading and writing poetry helps me to make sense of this complex world. Climate change is a huge topic and I tend to come at it aslant through writing about related phenomena such as sea level rise and biodiversity collapse, or key contributors such as deforestation. I grew up in a rural household that was concerned about the impacts of human activity on wildlife and habitats, but in a very localised way connected to our working lives in an agricultural landscape – such as the effects of intensive farming, pesticides, and removing hedges. I carried these ecological concerns with me into my adult life, manifesting in poems that explore relations between people and the natural world in a changing climate. My poem 'In The Forest's Heartwood', commissioned by NUCoL for World Poetry Day / International Day of Forest's (2020), promotes the importance of forest preservation and restoration.
Could you tell us about your PhD work on poetry and coastal erosion?
I grew up in Devon and walking the East Devon coast over many years stimulated my deep concern about the impacts of climate change on coastal habitats and communities, particularly after the winter storms of 2013/14 that devastated the area. I intended to submit a funding application to the Arts Council to do a project around poetry and coastal change – sea level rise, erosion and flooding – but then applied for postgraduate funding instead and was successful. My thesis included critical analysis of poetry by Gillian Clarke and Peter Reading, and a collection of poems inspired by my research, Side of the Sea. One barrier to writing about coastal change for me was the complexity of the science. A longer period of research in an academic environment allowed me to develop a more nuanced understanding through examining relationships between environmental data, intertidal archaeology, conservation and poetry. My research included visits to the Suffolk coast and a residency with Yorkshire Wildlife Trust at Spurn National Nature Reserve, located on one of Europe's fastest eroding coastlines.
What message are you conveying with your poetry and research?
My writing engages with a growing global consciousness of both the fragility of shoreline ecosystems and habitats, and the impacts of climate change in coastal areas and elsewhere. In Britain, no settlement is more than 75 miles from the coast. Adapting to inevitable change requires difficult decisions. Poetry can't turn back the tide, but I believe it can help to raise awareness, provoke dialogue, and inspire action. Poetry helps us to approach problems with our imagination, and explore new ways to live in our changing world.
Have you noticed any changes in recent years surrounding artwork based on the climate crisis?
There's a long history of the arts directing attention to social, environmental, and political issues, so it's not surprising that artists are engaging with climate change. I have noticed there are more collaborations between artists and scientists, creating art with emotional charge founded in scientific fact, such as projects developed by Cape Farewell. Artists are also working across disciplines to communicate climate issues. However, climate art can be controversial. I recently worked with artist Raphael Daden to incorporate one of my poems into his sculpture 'The Levels', addressing sea level rise. There was disagreement in the seaside town council where it was being installed over whether the artwork's messaging on climate change was too political – but the majority of councillors supported the project.
Do you have any advice for young people interested in your field?
If you're interested in community arts, I'd suggest researching organisations in your area – some may offer work experience or opportunities to volunteer. Pedestrian in Leicester is one example of a community arts charity that focuses on working with young people. There's lots of online support for young people interested in creative writing. Writing East Midlands has a dedicated space for young writers and there are similar organisations in each region. Live events and writing courses are also a good place to meet other writers and find out what else is going on in your area. The anthology Earth Shattering Ecopoems (Neil Astley, 2008) provides a good introduction to ecopoetry and includes a wide variety of poets and poems. Online, The Willowherb Review publishes new nature writing by emerging and established writers of colour. Young people are, of course, leading the way in climate activism, and making their voices heard in climate-engaged arts as well, as can be seen in the experience of young poet and climate activist Amelia Dye, and in Nottingham Wildlife
Trust's Nottingham for Nature campaign, led by NWT's youth team, aiming to inspire positive change.
---
The following is a poem included by Aly Stoneman which will be part of The Levels sculpture in Weymouth, 2021
THE LEVELS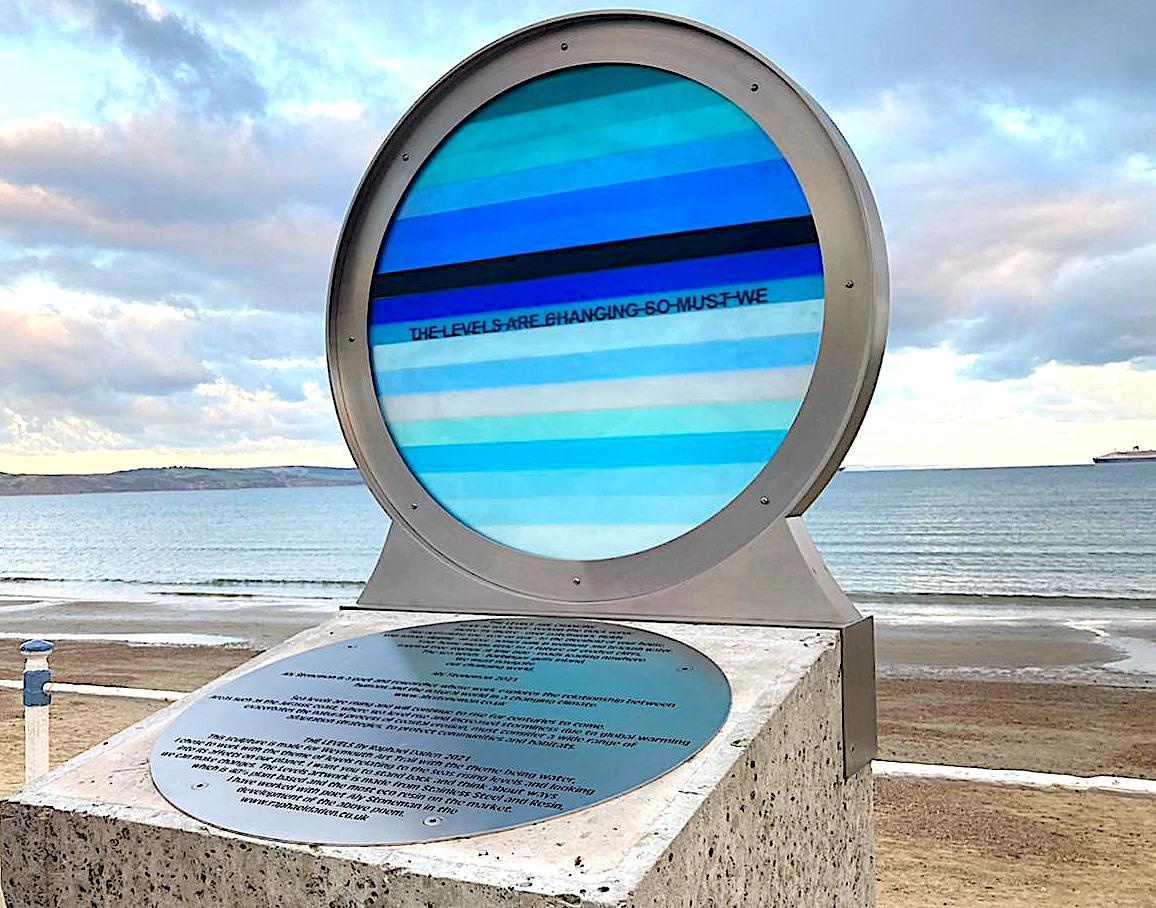 Start at sea level –
reckon the tide's surge
metre by metre
over Domesday fields
blue outflanking you
year on year
to the threshold of your house,
your tongue slipping
on place names sunk
in sediment and brackish water.
Your home means little to a future
of eroded cliffs, toppled
tree stumps at low tide;
roads leading nowhere.
The sea sends
harbinger gulls
inland.
We must navigate
our changing world.
Aly Stoneman (2021)