After a tough childhood, during which she was deprived of parental love, and having  survived World War II, Audrey Hepburn somehow became a Hollywood star. Both of her parents were Nazi sympathisers, and her father left them when she was only 5-years-old. Her mother sent her from the Netherlands where they have lived, to an English boarding school. She arrived in England a day before the war broke out, where she felt terribly lonely and worried. 
During the war she almost died of starvation, like a lot of children did at the time. She also had to abandon her dreams of becoming a prima ballerina, as her body could not handle the physical pressure. However, that still did not stop her in performing for small audiences in pubs and bars as a cabaret dancer and singer. This stood her in good stead and landed her the first few acting contracts.  
The role that shot her to stardom was in Roman Holiday (1953), where she co-acted with Gregory Peck, who was a well-known star already. He made sure that Audrey's name was just as big on the Billboards as his. Set in Rome, the movie is about a royal who is trying to escape her duties for a couple of days, when she unexpectedly falls for a nice man – played by Peck. One of the things that made the movie memorable was when the princess, i.e., Audrey Hepburn, cuts her long hair into a French pixie. This was considered a low-key feminist move at the time, since the norm until that point had been long hair for women. Hepburn's lovely smile, and the way she played the role of someone who is new to 'normal' and 'mundane' things in life won the public's sympathy and the critics' adoration. Unsurprisingly, she has won an Oscar, a BAFTA, and a Golden Globe too in 1954.
Resulting from her dance and music focused background, she landed a role next to Fred Astaire in a musical comedy in 1957. Funny Face was a light-hearted production, set in Paris, with music composed by George Gershwin. (Need I say more?) It was not as commercially successful as Roman Holiday, but the audience loved her even more after the first few screenings.
With an absent father, and a cold-hearted mother Audrey had a lot of love to give and to receive, which clearly shows on screen as well as in her interviews. Hearing that she did not necessarily like her own appearance and would have changed most things about herself made me realise how important our personal relationships really are. It did not matter that most of the film industry were enchanted by her, the love she needed from her personal relationships was missing.
This sentiment can be especially felt in Breakfast at Tiffany's. The story had been written by Truman Capote, and the movie was released in 1961. Initially it was written about an escort and her lack of trust in human relationships. Interestingly, this element has been glorified in the movie to such an extent, that most people did not even realise that Audrey was supposed to be playing a prostitute. The main character's turbulent feelings toward trust and love in general are depicted brilliantly by Hepburn. Starring next to her was George Peppard, with his elegant suits and blue eyes. Probably most scenes are iconic in this production, but the most famous one is arguably the scene where Audrey's character performs Moon River in the window. She was never a professional singer, but the sincerity and the fragility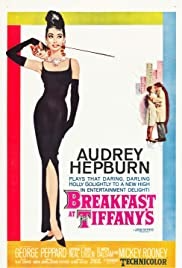 of the song resonated with a lot of people. The director almost took it out of the final cut, but supposedly Hepburn stood up and said: 'Over my dead body!'. And she was right, because the song won an Oscar and a Grammy the following year.
The duo everyone anticipated had finally happened in 1963, when she starred next to Cary Grant in the picture called Charade. The comedy mystery focuses on a widow, Regina Lampert, played by Hepburn, whose late husband owes several people a lot of money. When Peter Joshua, played by the heartthrob Cary Grant enters the scene everything changes, and the rest is history. It won a BAFTA for Best British Actress and was nominated for a further BAFTA and an Oscar.
Finally, the musical written by George Bernard Shaw, My Fair Lady must be mentioned, as it is one of the biggest additions to her repertoire. Even though the singing parts were dubbed by Marnie Nixon, Hepburn's performance is memorable. Audrey played Eliza Doolittle, complete with a common accent and poor manners, who strikes a deal with Professor Henry Higgins (Rex Harrison) to teach her how to fit into an elite lifestyle. The movie has won eight Oscars, a BAFTA, and has been nominated for several other international awards. 
By the looks of things, she has had a fulfilling and successful career as an actress. That is why it came as a surprise when she started to make less and less movies. Motherhood and family were the most important things to her through her whole life, and not even the promise of another award could have changed that. 
Later in her life, in 1989, she became a Goodwill Ambassador for UNICEF. She has travelled all over t
he world, raising awareness and funds for starving children across the globe. Her dedication was fuelled by her own personal experience during the German occupation, where it was UNICEF's help and volunteer work that helped her survive.
Just months before her death in 1992 she had visited Somalia, about which she has said the following: 'I walked into a nightmare. I have seen famine in Ethiopia and Bangladesh, but I have seen nothing like this – so much worse than I could possibly have imagined. I wasn't prepared for this.' (…) 'Taking care of children has nothing to do with politics. I think perhaps with time, instead of there being a politicisation of humanitarian aid, there will be a humanisation of politics.'
So, what made Audrey Hepburn special? Yes, she did have a fabulous wardrobe, she knew how to walk and talk like a lady, with a boyish haircut, but the true magic came from somewhere else.
I think her real charm was her compassion and her willingness to make the world around her a better place. Either with her wonderful motion pictures, that we can still enjoy today, or with her years' worth of charity work. 
Sources and further information can be found in: 
Audrey Hepburn, An Elegant Spirit by Sean Hepburn Ferrer
Audrey, 2020 
Header Image Credit: "Audrey Hepburn" by twm1340 is licensed under CC BY-SA 2.0