The first piece (A Linha Curva) presented Brazilian Culture, lighting the stage with a vibrant Carnival, Samba style contemporary dance. The lighting specifically stood out to me during this piece, a bright checkerboard of all different colours was used to not only vibrantly light the stage but direct the timing of the piece and space. At many points in the dance, dancers were restricted to a single square of coloured light, or perhaps a line. What I also found really interesting was that not only were there sections of celebration but more narrative sections, particularly looking at the competitive interactions between the men. This made the piece more engaging and held it together really well.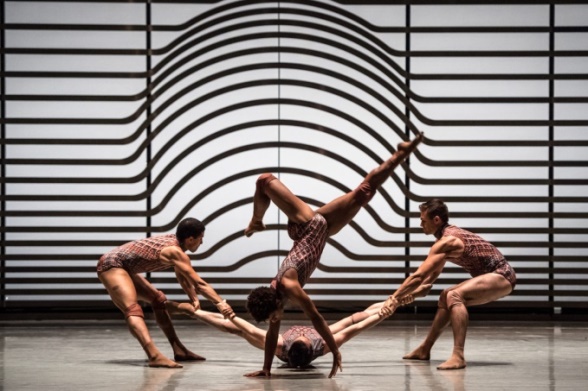 The Second piece Symbiosis had a little more ambiguity and completely differed from A Lina Curva. The indicate choreography mixed with the dancers' flawless technique really made this piece for me.  A highlighting moment in the choreography for me would have been where two male dancer lifter a woman above their heads, holding her torso while she bent her head legs backward to touching. Similarly to A Linha Curva the lighting and set in the piece (in my opinion) also made a huge impact. The set comprised of dark metal bars creating an optical illusion of a circle, behind was a bright white wall which varied in colour throughout the piece impacting the stage as a whole and the mood of the dance. The lighting changes included purple, red, yellow, white, blue and blackout. I found that the red specifically had the biggest impact, it created a sense of danger and heightened the emotion of the piece, creating tension and an impactful climax.
Finally, 'Goat' finished the series of performances; it was a piece with acting, narration, and dancing, including lots of enigmas and symbolism. The piece was my least favourite as t made the audience confused and very uncomfortable. The narration made the dance funny, however, the core piece was far from humorous. The piece explored ideas of depression, pain, sadness, sacrifice, hope, and love. A very uncomfortable, awkward yet emotional section was when each dancer performed movements presenting ideas such as pain loss and depression. I enjoyed the final dance which was a beautiful duet to a song about "feelings", exploring the idea relying on each other, the duet contained awkward positions but the on-going moment flowed and evoked emotion in the audience. 
Overall the three pieces together created a really good piece, and I think they each successfully explored and presented to the audience different ideas of dance: fun and celebration, flawless technique and emotion.